UNITED NATIONS, New York – World leaders committed today to stepping up their efforts to achieve the Millennium Development Goals (MDGs) – particularly in areas where progress has stalled, including universal access to primary education, child mortality, universal access to reproductive health, including maternal health, and others.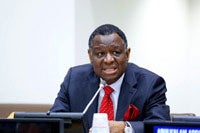 In an outcome document adopted at a Special Event on the MDGs, Member States recognized that "promoting gender equality and empowering women and girls underpin and advance progress across all the Goals." They also committed to "promote gender equality and eliminate the range of barriers to women's and girls' empowerment in our societies."
During the event, hosted by Ambassador John W. Ashe, President of the UN General Assembly, world leaders also agreed to hold a 2015 Summit "to craft a strong post-2015 development agenda, which will build on the foundations laid by the MDGs, complete the unfinished business and respond to new challenges."
Today's event also featured the presentation by the Secretary-General Ban Ki-moon of his report, "A Life of Dignity for All," in which he outlines actions to achieve the MDGs and a vision on a new and responsive sustainable development framework.
The post-2015 framework "must be bold in ambition yet simple in design, supported by a new partnership for development," said the Secretary-General during the event, adding that it also "needs to be rights-based, with particular emphasis on women, young people and marginalized groups."
"We welcome today's commitment to redouble international efforts to achieve the MDGs in the less than 850 days to the 2015 deadline," said Dr. Babatunde Osotimehin, Executive Director of UNFPA, the United Nations Population Fund. "This unified resolve by world leaders, and the Secretary-General's new roadmap, will translate into better lives for millions around the world, particularly the poorest, most vulnerable women and young people, especially adolescent girls."
"The journey we started in the year 2000 has seen us build a solid foundation for further progress," concluded the Secretary-General. "The children born in that year are now entering adolescence – many with the education and health they need for a good start in life, but many more still lacking. As they move into full adulthood, and as our own development efforts mature, let us recognize the important task that is before us."
Excerpts from
The Secretary-General lays out his vision beyond 2015 by saying that:
Bringing this vision to life will require a number of transformative and mutually reinforcing actions that apply to all countries.
"Improve health. Address universal health-care coverage, access and affordability; end preventable maternal and child deaths; realize women's reproductive health and rights."
"Address demographic challenges. While the population of developed countries is projected to remain unchanged at around 1.3 billion, the population of developing countries is projected to increase from 5.9 billion in 2013 to 8.2 billion in 2050. Countries with a high rate of population growth are generally on a path of falling fertility, especially as education for girls and sexual and reproductive health services become more widely available. Progress in these areas would enable many households to slow fertility rates, with consequent benefits for health, education, sustainability and the demographic dividend for economic growth. Countries with a high proportion of young people need to offer education and opportunities for decent work. Countries with an ageing population need policy responses to support the elderly so as to remove barriers to their full participation in society while protecting their rights and dignity."
"Enhance the positive contribution of migrants. More than a billion people rely on international and domestic migration to improve the income, health and education of their families, escape poverty and conflict and adapt to environmental and economic shocks. Countries receiving migrants can also benefit significantly."
"Meet the challenges of urbanization. Some 70 per cent of the world's population will live in cities by 2050. Urbanization poses the challenge of providing city dwellers with employment, food, income, housing, transportation, clean water and sanitation, social services and cultural amenities. At the same time, living in cities creates opportunities for the more efficient delivery and use of physical facilities and amenities."
Click here to download the full report