The women of the Del Carmen community in Mexico's Hidalgo state recently received equipment to establish a candy-making industrial kitchen, thanks to the efforts of UNFPA Goodwill Ambassador and former Miss Universe Lupita Jones. The industrial kitchen will be located on a piece of land donated by the state governor, Mr. Manuel Angel Nunez Soto.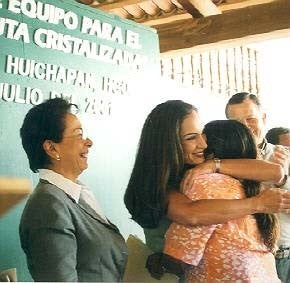 The women are thankful to Ms. Jones for responding so quickly to their request for assistance and for giving them the opportunity to take their families and children out of poverty, said Victoria Uribe Gomez, a representative of the women.
The effort of the Goodwill Ambassador is part of her campaign to help achieve a dignified role for women in Mexico, many of whom have to take care of their families without male support.
In the Del Carmen community, most of the men have emigrated to other countries to seek better opportunities, leaving their wives and families with little economic support.
When she became aware of the women's plight during a visit to the state of Hidalgo, Ms. Jones made a commitment to support their effort to establish a candy factory to provide income.
To make the programme a reality, she enlisted the support of both the state government and some private companies in the area.
Since 2000, Ms. Jones has been UNFPA Goodwill Ambassador and Face to Face Campaign Spokesperson for Mexico.