UNITED NATIONS, New York – Leaders and youth advocates gathered in New York on Tuesday to discuss how to work together to end violence against women and girls, the most prevalent human rights violation in the world.
The event, Violence Knows No Borders, was part of the United Nation's annual Commission on the Status of Women. Attendees noted the topic is a particularly timely, given the numerous grassroots movements calling for action to end gender-based violence.
"We feel that the momentum is building," said UNFPA Executive Director Dr. Natalia Kanem. "We see support in every corner, but we also see that there's pushback."
She and others called for more resources and political support towards ending this violence, which affects an estimated one in three women.
"We have a raging epidemic," said Nahla Valji, a senior United Nations gender adviser. "We're not doing a good job of preventing it. We're not doing a good job of responding to it."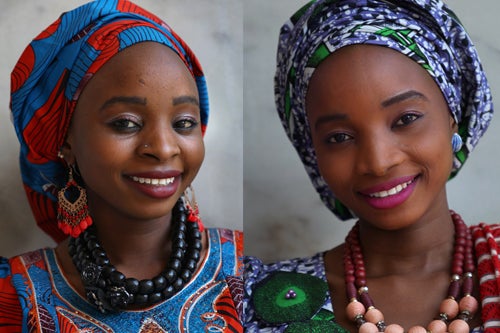 Hauwa and Ya Kaka spoke of escaping Boko Haram. They have taken their stories to leaders in Washington, D.C., and the United Nations. © Too Young To Wed
Stories of survival
The room was filled with young advocates, including survivors of abuse, many of whom are leading the call for change in their home countries.
Two young women, 17-year-old Hauwa and 18-year-old Ya Kaka, came to the event from northern Nigeria, where they had escaped abduction, sexual violence and brutality at the hands of Boko Haram insurgents.
Hauwa told the audience about her abduction at age 14. She was taken to a forest camp, where she endured relentless abuse and became pregnant. Fear of dying in childbirth drove her to escape.
"I decided that rather than keeping quiet and dying silently in the bush, I'd be better off dying while struggling to escape," she said.
She slipped out one night and hiked for a week before coming across an elderly woman. The woman sheltered Hauwa until she gave birth. Then, Hauwa continued her journey. "If I remained there and the insurgents met me and her there, they would kill all of us," she explained.
"The second or third night, my child became ill. I was under a tree when the child died. At first I thought she was sleeping, then later I realized her body was becoming so stiff. I knew she died. I dug a hole, buried the child, and continued."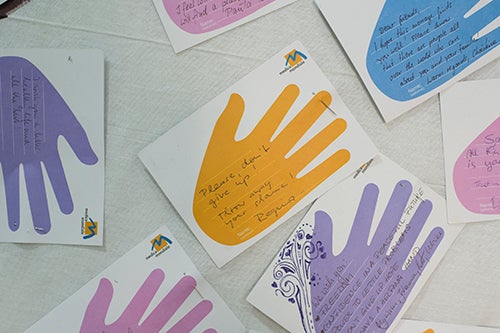 Messages of hope adorn a clinic in Dohuk, Iraq, specializing in treatment for survivors of sexual violence. © UNFPAIraq/Turchenkova
Ya Kaka's story was just as horrific.
She was kidnapped along with two of her siblings, but they were soon separated. "To date, I have not seen them, and I have not heard anything from them," she said.
Violence was constant. She, too, became pregnant and had a baby.
But the abuse did not end after she escaped.
More than a year after her abduction, Ya Kaka managed to flee, and found her way to a camp filled with other survivors. But services there were overstretched, food was scarce, and protection was limited.
"In the night, when all the workers in the camp have left, soldiers that were keeping watch over the camp would come into the camp and demand sex from us," she said.
She fled the camp. Her son fell sick and died soon after.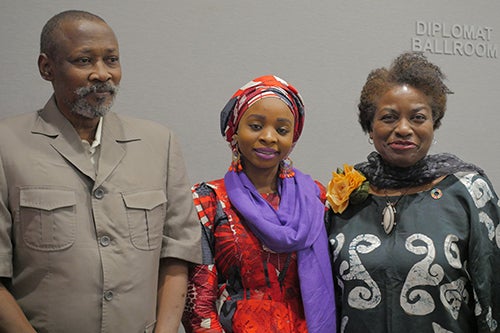 "Violence against women is one of the most underreported and one of the most pervasive injustices," UNFPA Executive Director Dr. Natalia Kanem said. Here (right), she stands with Hauwa and Shehu Abubakar (left), the Nigeria programme director of Too Young to Wed.© UNFPA/Jeffrey Bates
Risks and reprisals
Both Hauwa and Yakaka are now in school, but the danger is not over. Even telling their stories is risky.
"Let's be clear: Boko Haram knows who they are," said Stephanie Sinclair, an award-winning photographer and founder of Too Young To Wed, the organization that has been assisting Hauwa and Ya Kaka. "But they want to do this because there are thousands of girls still missing in northern Nigeria."
They were not the only ones under threat.
Several advocates in the room said they and their peers had endured violent reprisals for reporting sexual violence or refusing to provide sexual favours.
Many prominent speakers said they expected further resistance to the fight for women's rights, and called for efforts to prepare.
"The pushback to this movement is coming," said Dr. Daniela Ligiero, Chief Executive Officer one of Together for Girls.
Seeking accountability, hope
Dr. Ligiero noted that evidence is essential for building the political will to protect and empower women. "One of the strongest tools we will have is data," she said.
UNFPA's Executive Director also touched on this point. "Violence knows no borders, that's true. But one of the big challenges is quantifying what this means for women and girls," Dr. Kanem said.
In addition to supporting shelters, health services and psychosocial support for survivors, UNFPA works with governments and partners to collect data on gender-based violence. But these efforts must not simply measure the extent of violence; they must also seek to "bring evidence to court so we can have accountability," Dr. Kanem added.
The attendees emphasized that change is possible.
Despite the unbearable hardships they have endured, Hauwa and Ya Kaka say they have hope. Both said they would like to become lawyers to defend and protect human rights.
And they have no regrets about speaking out. "I need to share my story so the entire world will hear it," Ya Kaka said.