LIMA, Peru—Getting in touch with emotions and discussing sexual and reproductive health may not seem likely priorities for young, uniformed men and women with steely gazes and clenched jaws. But in Peru's armed forces and police academies, these issues are an established part of the curriculum.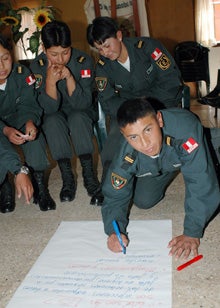 The Las Palmas Air Force Base in Lima is a massive complex of austere buildings. The somber, square architecture, accentuated by heavy seasonal clouds engulfing the Peruvian capital, seems an unlikely setting in which to discuss 'touchy feely' issues. Yet inside, psychologist and Air Force Captain Mónica Gonzáles Méder is coaching first-year students in how to express happiness, sadness and, yes, tenderness. The exercise is meant to improve the cadets' self-esteem, get in touch with and control their emotions, and be more responsible in their sexual relationships.
"This exercise made me feel like I was back in my childhood," laughs Raymond Ramirez, a student at the Air Force Academy. But he understands the seriousness of the topic. "These classes teach us about sexual health and HIV prevention in a way that makes us reflect on the issues and exercise more self-control," he says. "In high school, we were just joking about these things, and nobody learned anything. Here we go more in depth, and this makes it interesting."
" In high school, we were just joking about these things, and nobody learned anything. Here we go more in depth, and this makes it interesting "

--Raymond Ramirez
Peru is playing a leading role within Latin America and the Caribbean in protecting military and police recruits from HIV. In 1992, the government created the Peruvian Armed Forces and Police Committee for the Prevention of HIV/AIDS, known by its Spanish acronym, COPRECOS. Under the leadership of its first president, Juan Alva, an air force general and medical doctor, COPRECOS helped create counterparts in 11 Latin American and Caribbean countries. The institution, now led by Navy Captain Victor Vallejo Sandoval, has since established norms for prevention and treatment, conducted studies, run education and prevention programmes, as well as a central laboratory for test analyses. It has spawned three regional offices in Peru – Piura in the north, Arequipa in the south, and Iquitos in the Amazon region bordering Colombia and Brazil. Several local offices have also been established, helping to provide education, collect data and distribute condoms.
Since 2000, UNFPA, the United Nations Population Fund, has helped strengthen COPRECOS. It has trained 341 teachers in topics relating to reproductive and sexual health as well as prevention of HIV and other sexually transmitted infections. Initially, UNFPA also provided the programme with condoms for distribution among military recruits and police students. UNFPA is helping prevent HIV among military and police personnel in more than a dozen countries in Latin America and the Caribbean.
HIV prevalence rates in armed forces around the world, as in the societies they serve, are increasing. The general prevalence rate in Peru is still below 1 per cent, but recent studies have revealed new trends in transmission of the virus. In a general population study in 24 Peruvian cities, 44 per cent of men between the ages of 18 and 29 said they paid for sex, and nearly half of them admitted that they did not use condoms with sex workers. About 12 per cent of those asked said they had had sex with other men, 68 per cent without using condoms consistently in those encounters. Women in the Andean region – many of whom have had one or two partners in their lives – are increasingly being infected by husbands and boyfriends who engage in sex with other men, according to UNAIDS, the Joint UN Programme on HIV/AIDS.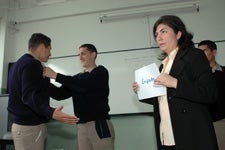 "In here we can control things, the problems are outside," says Colonel Freddy Jesus Del Carpio Hernani, director of the National Peruvian Police's school for sub-officials, a boarding school for police recruits near Arequipa. His students take a mandatory course in sexual and reproductive health for three or four hours a week (depending on the year they are in), in which sexuality, responsible parenthood and HIV/AIDS, along with other sexually transmitted infections, are discussed openly. Students also receive condoms each weekend.
"Police officers must often fill the roles of a teacher, parent, social communicator, and a psychologist, so it's important for us to have this knowledge, both for our personal and professional lives," says Jorge Romero Wiracocha, a second-year student at the police school.
Recruits are let go if they become pregnant, start a family or become infected with HIV during their education. But if infection occurs when they are on active duty, they receive treatment through a health care system designated for police officers and their families. Currently, 325 Peruvian police officers and family members are either HIV-positive or have developed AIDS. The Peruvian police force has about 90,000 officers on active duty, but the police health service cares for an estimated 450,000 active and retired officers and their families.
Pedro (not his real name), an eight-year veteran of the police force in Lima, became aware that he had been infected with HIV when he collapsed at work because of a brain tumour. A number of tests were made, and it was established that he had already developed AIDS. "I thought my family would not want to have anything to do with me anymore, but they keep giving me support. I never thought I would get in touch with someone who had HIV, and I feel terribly guilty," he says. But he is grateful that his wife and two-and-a-half-year-old son are not infected.
Andres Paredes, a medical doctor who heads the HIV/AIDS programme at the Police Hospital in Lima and is a member of the COPRECOS board, says that prevention and treatment programmes for the police force are doing their job, though the Police Hospital is suffering from several problems, including a slow procurement process for antiretroviral drugs, lack of decentralized health services (the hospital receives HIV and AIDS patients from police districts in the entire country) and, lately, a lack of condoms. "The average salary of a police officer is about $200 per month. Therefore it is crucial that services and supplies are delivered free of charge," says Paredes. "Prevention will, of course, always be the least expensive alternative."
Combatting HIV/AIDS, malaria and other diseases is one of eight Millennium Development Goals contained in the 2000 Millennium Declaration adopted by world leaders. The specific target is to halt and begin to reverse the spread of HIV by 2015.
Contact Information:
Trygve Olfarnes
Tel.: +52 55 5250-7977
Email: olfarnes@unfpa.org