NEW YORK CITY – "One of the key indicators of inequality is maternal mortality. Every single day 800 women die from pregnancy and childbirth related complications", H.R.H. Crown Princess Mary of Denmark told a 60,000 strong attentive audience in Central Park.
The occasion was the Global Citizen Festival organized by Global Poverty Project to celebrate some of the successes and accelerate progress towards a world without extreme poverty by 2030.
The Crown Princess attended the festival in her capacity as patron of UNFPA, the United Nations Population Fund, and as a member of the High-Level Task Force on ICPD.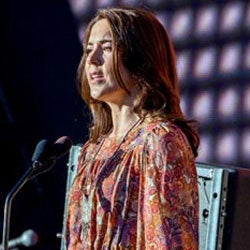 For more than three years, the Crown Princess has been dedicated to UNFPA's work to promote maternal health and safe motherhood in more than 150 developing nations. And she used the Global Citizen platform to highlight equality and the empowerment of women as the keys to tackle poverty worldwide.
"Gender equality is a human right and the foundation for building vibrant, healthy, and prosperous societies and economies," she said.
"Right now the next round of global development goals are being discussed, debated, and negotiated. There are three essential pillars that must be at the core of any new agenda: women's empowerment and gender equality; the rights and empowerment of adolescents and youths; and sexual and reproductive health and rights."
The Crown Princess attended the Global Citizen Festival alongside UN Secretary-General Ban Ki-Moon, Liberian President Ellen Johnson Sirleaf, and representatives from civil society. The festival also included performances by Bono, Stevie Wonder, and Alicia Keys, among others.