Yuko Arimori, winner of two Olympic women's marathon medals, has pledged to use her position as a Goodwill Ambassador of the United Nations Population Fund (UNFPA) to work for the rights of women and children.
"I would like to work to expand my activities from the rights of individuals, which I have been fighting for, to the rights of women and children," said Ms. Arimori, 35, who in January this year became the second Japanese to be named UNFPA Goodwill Ambassador, after movie and stage actress and writer, Keiko Kishi.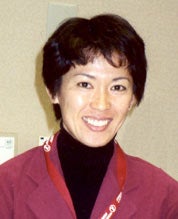 As her first assignment with the UNFPA, Ms. Arimori visited Cambodia to observe activities by the country's youths in the fight against the spread of HIV/AIDS and to start a project to counter the infection. In Phnom Penh, she met with the UNFPA Goodwill Ambassador in Cambodia, Chea Samnang, and the two of them called attention to the dangers posed by HIV/AIDS to young people. They also highlighted the different problems facing young people in their two countries.
Ms. Arimori said that, through a television documentary on her visit, she hoped to raise funds from the Japanese public to support the UNFPA's efforts to improve adolescent sexual and reproductive health in Cambodia.
In Cambodia, HIV is spreading at an alarming rate, especially among young people aged 15 to 35, Dr. Samnang informed Ms. Arimori. That situation was having a serious impact on the health, socio-economic development and living standards of Cambodians.
Ms. Arimori has turned her marathon career into a movement for charity. She had previously been invited as a guest runner to Cambodia for in 1996 and 1997.
In 1998, she established the Hearts of Gold Foundation with collaborators and began work as the representative director of the non-profit organization, which stages the annual Angkor Wat Half Marathon and other sports and charity events to raise funds for victims of landmines in Cambodia.
Contact Information:
Abubakar Dungus
Tel.: +1 (212) 297-5031
Email: dungus@unfpa.org