HILL COUNTRY, Sri Lanka — In mid-April as the sun moves directly overhead and the harvest comes to an end, Sri Lankans celebrate their New Year, one of the most important times in the cultural calendar. The occasion calls for gifts, new clothes, traditional sweets, time with friends and relatives, fire crackers and special games.
This year's festivities for plantation workers at the Hope estated in the hill country took a gender-bending twist. In a New Year Festival organized by the local Women Development Centre, with UNFPA support, men and women exchanged typical roles, as a way to heighten awareness of gender issues.
Coconut scraping, a daily chore of a woman at home, was made a game for men. This was followed by a men and boys' crying competition to overcome the stereotype that men don't cry and to clarify that they, too, have right to feel deeply.
Hamesh, who participated in the coconut scraping competition had this to say soon after he finished the game: "I really experienced how difficult and tiring it is to do this job. I need to help my wife when she cooks."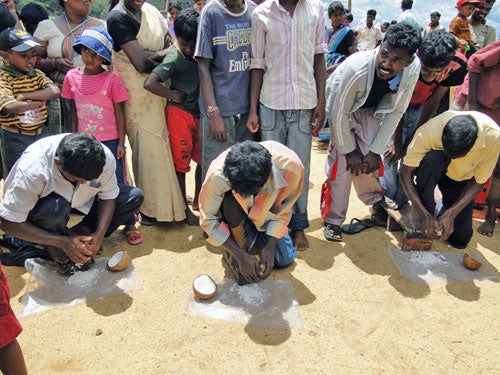 Men participating in a coconut-scraping contest. Photo: UNFPA/Sri Lanka
Meanwhile, women participated in competitions requiring strength: one-armed pillow fighting and tug-of-war. To encourage working together, an egg-throwing competition for men and women was also organized.
"This was the first time we had such a wonderful event in the Hope estate. We enjoyed it very much. By winning the egg throwing competition it showed us the full dedication that is needed from both of us to win this," said the prize egg-throwers.
These events form part of UNFPA's wider effort to address gender-based violence through its support to 14 women centres run by local NGOs in Sri Lanka. These centres provide safe and accessible spaces for women and serve multiple needs through the provision of services such as counselling, legal aid, referrals to health and other services, livelihood training, sensitization about women's rights, gender and gender-based violence issues, and community mobilization.