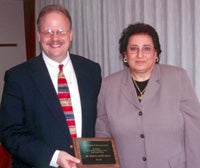 Thoraya Ahmed Obaid, Executive Director of the United Nations Population Fund (UNFPA), has received the first George D. Younger Award from religious groups at the United Nations. The award was presented to Ms. Obaid on 15 May by Jeffery Huffines, President of the Committee of Religious NGOs at the UN, for "contributions to the United Nations that have been conducted in a spirit that honors the qualities of faith and service upheld by the world's spiritual traditions."
Citing Ms. Obaid's "unique capacity to bridge the worlds of east and west, north and south," Mr. Huffines told the crowd that UNFPA was "tremendously fortunate to have at its helm a person of both faith and science at a time when it has become a lightning rod for controversy at the crossroads of religion, culture and politics."
The UNFPA Executive Director has repeatedly pointed out that family planning and reproductive health and rights are issues that provoke strong opinions because they touch on vital aspects of religion and culture. Since she assumed her position in January 2001, she has pushed for programming that respects cultural and religious diversity and international human rights.
"She has adroitly negotiated turbulent waters with courage and wisdom by fearlessly going into the lion's den," said Mr. Huffines, referring to Ms. Obaid's meetings with representatives of all religions to listen to their views and concerns.
Following the award presentation, Ms. Obaid gave a talk entitled, "The Role of the UN: Ethics and Reproductive Rights," a subject which, she said, touched on "one of the thorniest and most controversial subjects on the United Nations agenda." She spoke about partnerships with religious communities in countries as diverse as Bangladesh, the United States, Zimbabwe, Ghana, the Sudan, Guatemala, Egypt, Ethiopia, Kenya, Iran and Afghanistan to further the goals of the 1994 International Conference on Population and Development. At the Conference, governments agreed to provide universal access to reproductive health services, including voluntary family planning, by the year 2015 and to promote male responsibility, the empowerment of women and gender equality.
The award is in memory of George D. Younger, the President of the Committee of Religious NGOs at the UN from 1997 to 1999. Dr. Younger, a graduate of Yale Divinity School, served as UN representative for the Baptist World Alliance and Baptist Minister and community advocate.
The Committee of Religious NGOs has been meeting regularly since 1972 and is open to representatives of any organization that defines its work as religious, spiritual, or ethical in nature, and is accredited to the United Nations. The Committee serves as a forum to inform and educate constituencies about global challenges and the constructive role that the UN can play in addressing these issues. It also serves as a forum for exchanging and promoting shared religious and ethical values in the deliberations of the world organization.
Contact Information:
Ann Erb Leoncavallo
Tel.: +1 (212) 297-5023
Email: leoncavallo@unfpa.org