San Pedro Sula, Honduras—How do you reach gang-members in Belize, migrants in Guatemala and school dropouts in Honduras with information about preventing HIV? UNFPA, the United Nations Population Fund, with financing from the OPEC Fund for International Development, is doing just this by engaging young people as educators and counsellors, and reducing stigma and discrimination against those who are HIV-infected.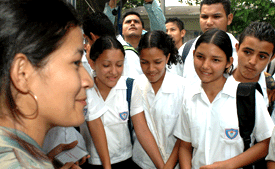 Caness Ashanti Nolberto is a volunteer with Youth for the Future in Belize. They organize weekly information fairs for teens and walk from house-to-house with information pamphlets about the disease. Gang-members are among their target groups.
" Our success depends on how we approach them, they don't like it if we are judgmental," said Ashanti. "Gang-members often have little education and we depend on their leaders to help get our messages across." The HIV education programme goes hand in hand with an effort to reduce crime in Belize City.
Stigma against those infected with HIV is still quite severe in Belize. "Anti-retroviral medicines are available to those who need it, but we know that many people who are HIV positive are not getting tested, because they are afraid to be ostracized, and some would literally rather die than pick up the medicines from a hospital," said Peter Allen, a Director at the Belizean Ministry of Health. Another factor that causes distortion of AIDS statistics is that when someone dies of AIDS, family members ask doctors to register a different cause of death. In many cases, the doctors comply with the wishes of the family, said Allen.
Sixty youth representatives, government officials, and representatives of the United Nations met in San Pedro Sula, Honduras in April to discuss the progress and future course of a regional effort to reach vulnerable young people in six Central American and Caribbean countries: Belize, Costa Rica, Guatemala, Guyana, Honduras and St. Lucia with information about how to prevent HIV/AIDS. They agreed that youth should be even more involved in prevention activities, and that knowledge and experiences from participating countries could be shared and used more effectively across the region.
"We are using an innovative approach to HIV prevention, which goes beyond education," said Mario Vergara, the programme's Mexico-based coordinator. One of the pitfalls of AIDS education is that participants are made aware of the dangers of becoming infected, but fail to change their behaviour, thinking 'this could never happen to me.'
"We are helping to change laws and policies, involving and engaging vulnerable youth, and motivating them to actually change their behaviour to prevent infection," said Vergara. The programme targets different groups of vulnerable youth in each country, adjusted to local needs.
Policies and laws are currently under revision in Belize, Guyana and St. Lucia to ensure that they take into account young people's access to reproductive health services, including HIV/AIDS prevention. The age-limit for access to these services is now 16 in all three countries. "Everybody should have the right to access these services, regardless of age," said Vergara.
Participants in the meeting also pointed out that preventing HIV and AIDS requires a holistic approach. "Increasingly it is not high risk behaviour per se, but vulnerability due to poverty, gender inequality and social exclusion and marginalization that threatens the lives of young people", said Thoraya Obaid, Executive Director of UNFPA in her opening speech at the meeting.
" I was acting rebellious with my parents over a boyfriend, I was under a lot of pressure, and was about to give up my studies. "

--Melissa Buendia, now a volunteer at a youth centre
Damian Greaves, Minister of Health of St. Lucia warned that women between 15 and 24 years old are becoming infected at a higher rate than any other demographic group, making the epidemic a massive development problem in the region. "If this trend continues, there will be a significant decline in growth and development gains," he said.
In Honduras, the Central American country hardest hit by HIV/AIDS, UNFPA and the OPEC Fund supports Entre Jovenes (among youth), an organization that offers medical services, counselling, HIV and pregnancy testing, as well as discounted medicines and contraceptives.
Melissa Buendia, a volunteer at Entre Jovenes, first came to the centre in San Pedro Sula six months ago to seek help. "I was acting rebellious with my parents over a boyfriend, I was under a lot of pressure, and was about to give up my studies," she said. "I got so much help at the centre that I decided to stay on as a volunteer to help others."
The coordinator of Entre Jovenes, Jenny Rodriguez, says the centre aims to reach more youth through volunteers like Melissa. They also reach out to parents, mainly through local churches.
In Guatemala, UNFPA works with the non-governmental organization EDUCAVIDA and the House of Migrants in the northern border town of Tecun Uman to provide education in HIV prevention and condom use. So far, the programme has reached more than 14,000 young migrants.
"The epidemic is concentrated among vulnerable groups in Guatemala, but there are tendencies showing that it is turning into a general epidemic," said Annelise de Salazar, Director of the country's national AIDS programme. "Reaching migrants is essential if we are going to be successful in limiting the expansion of HIV."
Central America and the Caribbean have the highest HIV prevalence rates in the Western Hemisphere. The average prevalence rate for the Caribbean is 2.3 per cent, topped only by sub-Saharan Africa, while Central America's rate is 1 per cent. Young people under 24 represent 57 per cent of those newly infected. In Honduras, AIDS has become the number one cause of death among women of fertile age.
The OPEC Fund has been collaborating with UNFPA in Central America and the Caribbean, as well as the Arab region since late 2002 on HIV prevention among young people.
Combating HIV/AIDS is one of the eight Millennium Development Goals agreed to by world leaders at the Millennium Summit at the United Nations, New York, in September 2000. The specific target is to halt the spread of HIV/AIDS and begin to reverse the pandemic by 2015. The progress in achieving the goals will be evaluated at a Millennium review meeting at the United Nations in New York in September this year.
Following up on the 1994 Cairo International Conference on Population and Development (ICPD), the United Nations General Assembly agreed in 1999 on new benchmarks to meet the Cairo goals. The Assembly agreed that by 2010 at least 95 per cent of young men and women aged 15 to 24 should have access to the information, education and services necessary to develop the life skills required to reduce their vulnerability to HIV infection. The same target is also part of a 2001 Declaration of Commitment that is being reviewed in June this year at a special session of the General Assembly.
-- Trygve Olfarnes