This is one of a series of features UNFPA is producing about the life in the camps where hundreds of thousands of people have sought refuge from war and famine in the Horn of Africa. The stories document the lives, the loss, the hopes and the fears of some of the most disenfranchised people in the world today.
DADAAB, Kenya — Twenty-year-old Aden Ibrahim has never known any home other than an expanding camp refugee camp in a parched landscape once traversed by nomadic camel and goat herders. "This is where I was born and where I've grown up. Dadaab refugee camp has shaped every little detail about my life," Aden says, smiling despite the hardships he has endured.
He lives in Ifo Camp, which is part of a larger refugee settlement complex in Kenya's North Eastern Province, about 100 kilometres from the border with Somalia. The camps, which were first settled the year Aden was born as a refuge for people fleeing war in Somalia and Sudan, now cover an area of 50 square kilometres within an 18 kilometre radius of Dadaab.
Aden belongs to a generation which is described as the camp's first children.
"At times I ask myself if I am a Somali -- or if I'm Kenyan citizen since I was born here," says Aden. Like many refugees, he does not possess a Kenyan national identification card, and without this official document, he is considered an alien.
A sense of statelessness
"The more I stay here in the camp, the more I realize I don't belong here," he added. "But how do I say I belong to Somalia when I have never been there? When I hear news coming out of Somalia, I realize Dadaab will be my home for a long time."
Now home to over 470,000 people, Dadaab is the largest refugee camp in the world and the third largest urban area in Kenya. With social amenities like schools, hospitals and water points situated far away from the tents where the settlers live, Aden has learned his way through the sprawling and crowded camp where all the tents look quite a bit alike and signposts are few and far between.
"When you grow up here, you must learn everything, because to us it is a city. I know the dangerous spots, and I know where to find my friends when I want to play soccer. My mother was too busy looking for food to feed us, so she had no time to escort me and my siblings to school. I was the eldest and I had to lead, and through that I have learned to know every little bend here," Aden says.
As one walks through the narrow alleys of Dadaab, people go about their businesses selling different wares ranging from cereals to vegetables. For those who can afford it, these food items are an alternative to the food rations distributed by the World Food Programme. Donkeys pulling rickety handcarts are the most common means of transportation.
School is a luxury
"When you are here in the camp, going to school is a luxury," Aden says. "I had to drop out of school because my mother struggled with us and she couldn't manage. I had to step in and help provide for the family."
There is only one secondary school in Dadaab, and the competition for it is fierce. Those who do manage to get in may be lucky enough to get low level jobs as registration clerks with the numerous aid agencies operating in Dadaab. For those with little education, one can either work in the small restaurants that have sprung up in the camp or as loaders for the many trucks carrying goods from Nairobi. Many young boys in Dadaab spend their past time playing soccer in the scorching heat. Others who can afford it, chew khat (a type of leaf used as a stimulant). Young girls on the other hand, tend to spend most of their time with their mothers.
Becoming a father figure for younger siblings
Aden has managed to find work as a loader for the many traders that bring their wares to Dadaab. In that way he can help support his family. The first born in a family of six, he had to be a father figure for his siblings, as his father passed away when he was only twelve.
It is estimated that only 48 per cent of children are enrolled in the overcrowded classrooms of Dadaab's schools. About 60 per cent of the population in Dadaab is estimated to be young people.
'If you have no education you can't dream of getting anything better than working as a loader, or washing dishes in hotels. For those who want shortcuts, a life of crime can be alluring," Aden says.
Aden and many of his friends meet in a youth group to discuss the challenges they face. "We come together to discuss issues affecting us like unwanted and early pregnancies and HIV and AIDS. Many young girls have now turned to sex as a way to provide for their family and to survive. The lifestyles they have adopted is risky, but we have learned not to condemn them but to counsel each other," he says.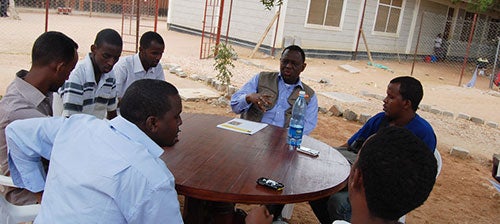 UNFPA's Executive Director meets with the youth of Dadaab.
For Aden and many other youths, getting into the Kenyan capital or the other cities would be the ideal exit strategy. But that is never easy and it would normally involve bribing immigration officers to get an Kenyan identification card. With only refugee status in Kenyan cities or urban centres, the young men would face constant run-ins with security personnel.
"We hold the future for Somalia."
In his recent visit to Dadaab, UNFPA's Executive Director, Dr. Babatunde Osotimehin, promised to help youth living in Dadaab. "I like the fact that young people and the need to engage them have been identified as an issue. I have had a chat with the youth and they need access to education, health and protection, and we will work with partners towards this end," Dr. Osotimehin said during his visit.
Aden believes that if they are given opportunities young Somalis could create change. "The youth here in the camp need help to realize their potential. We struggle but when we get help, we can push beyond our boundaries and make the world a better place. So far away from home, our generation could be lost. But we hold the future for Somalia."
— Kenneth Odiwuor for UNFPA