XIENG KHOUANG, Lao People's Democratic Republic — Pregnant again after suffering a stillbirth and a miscarriage at home, Ta Sivilay is comforted to know help is now available nearby.
"I lost two babies. It was very sad. You carry the baby a long time and then you expect to see his or her face. It took me a long time to recover," she says. "I don't want to lose another one. Anytime I feel anything strange, I immediately go to see the midwife."
Her midwife, Bounchan Phimmasan, graduated in December 2010 from the country's first midwifery education programme in more than two decades. From her rural health centre base, she serves women in a dozen surrounding villages.
In Laos, only one in five births is attended by a trained health professional. Maternal mortality has decreased by 51 percent 
since 1990 but remains very high -- more than 300 mothers die for every 100,000 live births. Just seven countries outside sub-Saharan Africa have such a high maternal mortality ratio. Deaths of newborns are similarly frequent. Providing lifesaving care during all births is an urgent priority if the country is to achieve Millennium Development Goals 4 and 5, which call for sharp reductions in infant and maternal mortality by 2015.
An assessment of Lao health workers in 2008 found that few were competent to adequately manage childbirth complications. To close this gap, the Ministry of Health decided to establish a new professional category of community midwives. It started the training the following year, with support from international donors and UNFPA.
Most of the first students, like Bounchan, were community health workers who had delivered babies but lacked comprehensive knowledge about the procedures to follow, particularly in dangerous situations.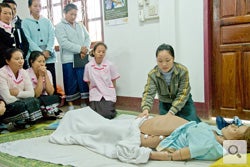 "Whether a skilled birth attendant is a midwife, a nurse, a physician or other person, we must ensure that they have essential knowledge, skills and decision-making ability – so-called competencies – to safely meet the common needs of mothers, infants and children and also handle emergencies as they arise," notes Kathleen Fritsch, Regional Adviser in Nursing for the World Health Organization.
UNFPA helped the Ministry create a new midwifery curriculum based on standards, techniques and materials developed by WHO and the International Confederation of Midwives, translated into the Lao language. Certification standards and a national accreditation exam were also established for the first time.
In the capital city of Vientiane, international experts taught 40 teachers how to conduct competency-based midwifery training. The teachers then returned to eight provincial public health schools where they are training midwives through participatory teaching methods, which include group exercises and peer feedback.
Ninety-seven per cent of the first class passed the exam, and at the end of 2010, 135 newly accredited community midwives returned to their local health centres. Each wears a distinctive new uniform, readily recognized in her or his community, and carries a midwifery bag with a new logo.
Bounchan has seen a steady increase in clients since she came back from school, and feels more confident delivering babies. "Now I can recognize the danger signs of complications and know the next steps to follow to save lives," she says. For example, she learned how to remove a retained placenta, which causes haemorrhage. "I didn't know how to do that before."
"If I have a case I don't know how to handle, I call the doctor at the provincial hospital. I can also call the teachers from the public health school," she adds.
Caring for mothers and infants in remote areas remains a challenge. Bounchan recounts one instance when the husband of a woman in labour took her 25 kilometres by motorbike to a mountain village not reachable by car.
"The woman was nearly ready to deliver by the time I arrived," she recalls. "It didn't take long."
---- William A. Ryan