YANGON, Myanmar — Survivors of the Myanmar disaster have proven remarkably resilient, but there is still a critical need for aid. And in the affected areas, it is apparent that women urgently require reproductive health care.
The terrible winds and floodwaters that struck on 2 and 3 May killed tens of thousands of people (officially, 84,537 died and 53,836 are counted as missing) and left many more homeless and cut off from food and basic services. In the weeks that followed, survivors endured severe hardships before help arrived.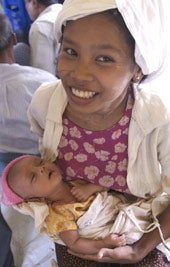 Nearly eight weeks after Cyclone Nargis, all but a few of the affected villages have been reached through an extraordinary combination of international, government, NGO, faith-based, community and private relief efforts. Homes have been rebuilt and services restored in many places. But support has been uneven, and a joint assessment team reported this week that thousands still need immediate, life-saving assistance – including food, clean water, shelter, medical care and psychosocial support.
"When the rain comes, the children cover their eyes and cry. And they start shaking when the wind blows."
--A Bogale villager
Pregnant women are among those in the greatest danger during humanitarian emergencies, as poor nutrition and a lack of safe delivery options can have fatal consequences. In the Ayeyarwady delta, where women typically give birth at home with the help of midwives, the widespread destruction of homes and disruption of transport and medical services greatly increased the already serious risks associated with pregnancy and childbirth in Myanmar. Many community health centres were wrecked, and at least 10 midwives perished during the disaster.
UNFPA, the United Nations Population Fund, is working to make pregnancy safer. (See UNFPA Myanmar Situation Update.) Since early June, doctors mobilized by the Myanmar Medical Association (MMA) and UNFPA have travelled to eight hard-hit villages in the delta and Yangon Division. The teams attended to hundreds of patients who had not had any health care since the cyclone, including many women who came for pre- or post-natal exams or contraceptives. Last week at two of the mobile clinics and a township hospital, several new and expectant mothers shared their experiences.
A Boy Named Nargis
Ywar Thit village is only a 15-minute boat ride from the delta town of Bogale, but aid was slow to arrive after the cyclone. Villagers subsisted on coconuts and spoiled rice for the first week or so; later they received occasional UN and government rice deliveries and various other forms of relief from well-wishers. But there was no medical assistance until 21 June, when MMA and UNFPA set up a clinic in a large tent UNICEF donated to temporarily replace the demolished schoolhouse. (There were no classes, as it was Saturday.)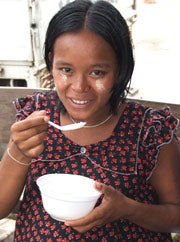 Nargis's gale and flood knocked down almost all of Ywar Thit's 400 bamboo and thatch houses. But the water rose more slowly than in many other villages, and nearly everyone managed to flee to higher ground.
Ma Khine has come to the clinic with a tiny infant. She says she spent the night of the storm huddled with dozens of neighbours in a small pagoda. At 10 the next morning she started having labour pains. A neighbour took her by boat to Bogale. The township hospital had lost its roof but still functioned, and Ma gave birth to a healthy son. The baby's name? "Nargis," she says, laughing.
Otherwise there isn't much laughter among the nearly 200 people squatting in the stuffy tent while they wait their brief turns to see the medical staff. Villagers here are hardy – they have already rebuilt their houses, and they wear clean clothes – but they still look shell-shocked. Dr. Pyae Phyoe Zaw says stress and bad diets have contributed to a high incidence of hypertension among his clients. Others are treated for diarrhoea, respiratory infections and a variety of other ailments.
The doctors observe that many villagers have mental scars from what they have suffered and need psychosocial support, but there is no time for counselling during this visit. For the children, memories of that awful night are as relentless as the monsoon weather. "When the rain comes, they cover their eyes and cry," a resident says, "and they start shaking when the wind blows."
Starting over
In Bogale, Township Medical Officer Dr. Hla Hla Kyi reports that the small hospital's maternity ward has gotten busier since the cyclone; they now do four or five deliveries a day. The roof has been repaired, but she says they could use additional supplies, an incubator and more labour beds. The greatest problem they face is the long time it takes to bring women from the villages when they experience difficulties in labour. But so far, they haven't lost any patients.
A local midwife brought Khin Aye Sen to the hospital, a 10-hour boat trip. Khin, 38, delivered her sixth child by Caesarean section. All the others survived the cyclone.
Ma Khai, waiting to give birth, was not so blessed. Her two small children died in the arms of her husband, Ohn Win, when their house collapsed on them. Ohn stands by his wife's bed as she grimaces in labour pain and grief. He looks dazed, as if unable to fathom the irony of new life starting amid unbearable loss.
Tender care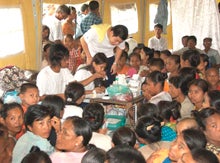 Near the hospital, UNFPA and MMA have just opened a temporary clinic to support the mobile teams and to offer prenatal care and delivery referrals. Women who live far from the township hospital can stay there while awaiting labour. Ma Khai and her husband came here from their village, seven hours away, before being sent to the hospital.
The health team is actively recruiting clients. Aye Kline, 27 and five months pregnant, says she was selling betel nuts at her market stand when two men approached her and suggested she come for a check-up. At the clinic, she tells team leader Dr. Cho Cho Mar Kyaw that she often has headaches and feels dizzy. The exam shows that she has high blood pressure, and she is given medicine.
News of the new clinic travels fast, and by lunchtime a half dozen pregnant clients are there, eating soup as they wait. UNFPA plans to establish two similar facilities in Labutta Township.
"So many of the pregnant women affected by the cyclone are very worried," notes Dr. Thwe Thwe Win, a UNFPA programme officer and physician who took part in several of the mobile clinics. "Many know they need to have C-sections because they had them before, but don't know how they will get to the hospital. If we can have more maternal waiting homes, we can take care of those vulnerable women."
Monastery becomes a clinic
Thirteen pregnant women are among the 214 clients who show up when the mobile team sets up shop at a Buddhist monastery in Ka Mar Ka Lon village, Kungyangon, where 45 people died in the cyclone. Staff are busy in every corner of packed room: three doctors examine patients; paramedics vaccinate children and dispense medication; and volunteers organized by UNFPA as community health motivators hand out 'dignity kits' – plastic buckets filled with underwear and other clothing and hygiene supplies.
Ma San Htay Oo, 18, takes home one of the kits. She looks pregnant but is not; she recently miscarried, perhaps as a consequence of the trauma she suffered when she had to run for her life from the rising waters.
Thin Thin Win has come for a post-natal exam. She was nine months pregnant when she saved herself by clutching a palm tree, while managing to hold onto the smallest of her three children. She gave birth to a healthy infant a couple of weeks later, attended by a midwife.
"One of our patients in Kungyangon had very high blood pressure," Dr. Win recounts. "We took her to the women's hospital in Yangon, where they were able to get her blood pressure down." Like many women here, the patient preferred to give birth at home so she returned to her village.
The prevalence of home births makes it imperative to get more clean delivery kits to the midwives working in the delta, Dr. Win says. "One midwife has to cover five to ten villages; in some places up to 20 villages. There is so much we need to do."
-- William A. Ryan