QUITO, Ecuador — More women than ever are part of the job market in Latin America and the Caribbean – 33 million entered into the labour force between 1990 and 2004. However, their participation is limited by their responsibilities as mothers and caregivers, as well as the low status of women in some Latin American and Caribbean societies.
Up to 60 per cent of the reasons women give for not entering, or leaving, the labour market are related to their roles as mothers and caregivers.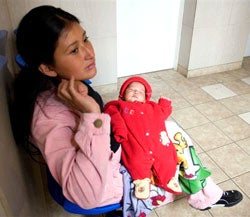 This was the focus of a special event entitled 'Towards a New Social and Gender Pact: Shared Responsibility for Productive and Reproductive Work in Latin America and the Caribbean.' It was organized by UNFPA, the United Nations Population Fund, in conjunction with the Tenth Regional Woman's Conference here this week.
The 'Quito Consensus', an agreement reached by 33 governments participating in the conference, paves the way for judicial reform and budget allocations to ensure more female representation in public and political posts. The document also calls for measures to ensure shared responsibility among women and men, facilitating the political participation of women, as well as the establishment of comprehensive public social security systems, improving women's quality of life and ensuring their rights as citizens.
Even though large numbers of women do have jobs, their salaries trail those of men by 20 to 30 per cent, according to Marcela Suazo, Director of the Division for Latin America and the Caribbean at UNFPA.
The poorest countries with the highest birth rates, the largest informal economies, and the weakest social policies, including Bolivia, Ecuador, Guatemala, Nicaragua and Paraguay, are also the ones with the highest female participation in the labour market. Women in these countries are over-represented in the informal sector, which typically offers lower pay and no benefits such as health insurance and pension plans. About 16 per cent of women in the region are employed as domestic help.
Women often find themselves "undervalued and without resources," said Judith Astelarra, a professor of Sociology at the Autonomous University of Barcelona.
"We need a cultural change, as well as an expansion of services that allows women to take part in the labour market "

--Jeanette Carrillo
Statistics show a strong link between poverty and high birth rates, which limit women's opportunities to make a better living. In Bolivia, Guatemala and Haiti, among the poorest countries in the region, women give birth to an average of four children. In Barbados, Cuba and Trinidad and Tobago, where economic prospects are better, the birth rate is lower than the population replacement rate (2.1 children per woman).
The Latin America and Caribbean region also has high adolescent pregnancy rates: Nearly two out of ten adolescents in the region have children, which limits their opportunities to stay in school.
"We need a cultural change, as well as an expansion of services that allows women to take part in the labour market," said Jeanette Carrillo, Executive President of the National Women's Institute of Costa Rica and one of the speakers at the event.
Suazo called for increased joint responsibility for caregiving among men and women, and warned that increased ageing of the population in the region may lead to an even greater need for caregivers.
In 2006, 60 million people above the age of 60 lived in Latin America and the Caribbean. In 2050 it is estimated that one of four inhabitants in the region will be senior citizens and in six countries, 30 per cent of the population will be over 60 years old.
UNFPA and GTZ, the German development cooperation agency, have produced case studies of gender roles relating to the balance between work and caregiving in eight countries in Latin America and the Caribbean. These studies will help governments stake out a course for improved gender parity and increased sharing of childrearing and caregiving responsibilities between men and women.  
— Trygve Olfarnes