NEW DELHI — Midwifery practices in India got some much-needed attention at a recent regional workshop here organized by the UN Population Fund, UNFPA, and the International Confederation of Midwives.
The workshop, held 28 November to 3 December, attracted about 60 participants from 7 Asian countries, who were oriented on the latest midwifery skills and standards of education and regulation introduced by the confederation earlier this year.
The participants, who included country midwife advisors, national programme officers, partner organizations and donors involved in midwifery as well as national representatives, discussed regional and country strategies to harmonize education standards in the region.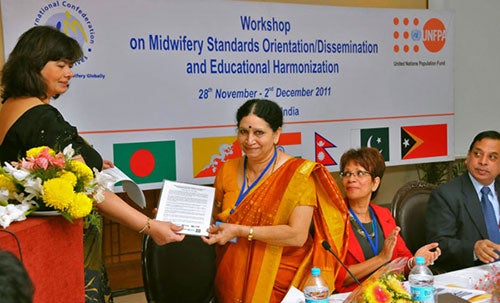 At the New Delhi conference, Dr. Nata Menabde, left, of the WHO in India holds a historic statement on midwifery with Dr. Asha Sharma of the Indian Nursing Council.
Concrete priorities and plans were devised, most crucially the need to establish a regional resource center for midwifery; standardize midwifery curriculum and tools based on International Confederation of Midwives competencies and standards of education; and encourage strong advocacy among stakeholders. Other priorities included faculty development, regional accreditation tools and developing career paths for midwives.
India's endorsement
The highlight was the release of the first joint statement ever by development partners (multilateral, bilateral and international NGOs) in India, including what is known as the H4 (the World Health Organization, UNFPA, UNICEF and the World Bank), Jhpiego and major donors like SIDA, UKAID, NIPI (Norway India Partnership Initiative) and USAID. The statement reiterated the partners' commitment to intensify efforts for adapting, disseminating and implementing the confederation's global standards of education, regulation and professional association.
"The workshop was a landmark for the Asia region because for the first time key UN agencies engaged in health and major multilateral and bilateral development partners as well as NGOs came out with a strong statement to help support strengthening the standards of midwifery education, ensuring skilled human resources for maternal health and working towards the establishment of a professional cadre of midwives," said Geeta Lal, midwifery programme coordinator for UNFPA.
"A major constraint in the region has been the poor quality of training, lack of supportive supervision and skewed distribution of health-care providers – an absence of services where they are needed most," Lal continued. "At this workshop, both the Government of India, the partners and stakeholders from seven countries recognized these constraints and reiterated their commitment to resolve these key issues to address MDG 5."
UNFPA and the International Confederation of Midwives introduced the Investing in Midwifery Programme in 2008 to enhance midwifery capacities and the midwifery workforce in low-income countries to help achieve Millennium Development Goals 4 and 5: improving maternal and newborn health by increasing the number of births attended by skilled health providers. The programme now operates in 30 countries in Africa, Asia and Latin America.