United Nations–Young artists from 61 countries took part in this year's International Poster Contest organized by the United Nations Population Fund (UNFPA). Winners were chosen today in five age groups from over 320 entries submitted to UNFPA headquarters after winning national contests.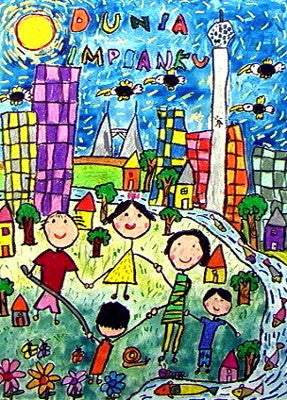 The grand prize went to Angelina Ooi Wei Wei of Malaysia who was also first place winner in the 6 – 8 years age group.
Each year since 1992, UNFPA has organized the contest around a specific theme to increase awareness and understanding of population and development issues. The theme for 2001 was "Population and Environment", focusing on the connection between family size and the environment. Artists were asked to examine how the environment has changed since their parents' time, how as individuals they can make a difference, and the connection which the status of girls and women can have on protecting the environment.
Over 61 countries held national poster contests, organized by UNFPA field offices, United Nations information centres, and non-governmental-organization partners in programme and donor countries.
Winning designs from the national contests were entered for the international selection and winners were selected based on the originality, creativity and message of their work.
In the 6– 8 year old category, Mohamed Mostafa Massaaod of Egypt came in behind Ms. Wei to take the second prize while the third prize went to Salaar Khan of Pakistan.
In the 9-12 age group, the first prize went to Cheok Zhi Li of Malaysia; the second prize to Xie Jing of China; and the third prize to Pak Yong Sun of the Democratic People's Republic of Korea.
In the 13-15 category Liu Yun of China came in first; Manila Sihavong of Laos second and Akaphong Tanasri of Thailand third.
Among the 16-18-year olds, Martanoemi Noriega Arauz of Panama came in first; Narong Vannasa of Thailand second and Zhao Xiao of China third.
Among those 19 years and older, Ibiyinka Olufemi Alao of Nigeria came in first and Samer Mohammed A. Al-Shameeri of Republic of Yemen was second while Arisoa Andrinianina Rakotonirina of Madagascar was third.
All contestants whose works were submitted for the international selection will receive certificates and winners will receive art supplies and special certificates.