JUBA, Republic of South Sudan — In the early morning hours of the 9th of July, as citizens woke up to a nation only a few hours old, UNFPA-trained midwives helped to deliver one of the first babies of the new Republic of South Sudan at the Juba Teaching Hospital. To no one's surprise, the proud young mother named her son Independence.
Around the new capital, Juba, boisterous crowds gathered on the eve of Independence Day, dancing and chanting "we will never surrender" in celebration of the much awaited birth of their new country. Tens of thousands of South Sudanese returned from the North to the South to participate in the referendum for independence.
Copyright © Alexandra Sicotte-Levesque
Following two decades of a civil war that cost the lives of more than 2.5 million people and displaced thousands more, this day offered South Sudanese the promise of a better and more peaceful way forward. As masses gathered in the scorching sun the next morning at the John Garang Mausoleum to listen to the declaration of independence, many broke down in tears.
Returning home to build a new nation
Dr. Martha Martins, a Member of Parliament of the South Sudan Assembly, stood proudly in a dress mirroring the colors of the country's new flag. When Martha was only 10 years old, she and her family were displaced by the raging war between North and South.
"Despite all the suffering, I was lucky," she said. "For those who stayed behind, it was a life of hell."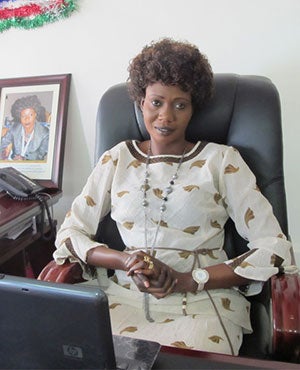 Martha walked hundreds of miles with her mother and siblings to a refugee camp in neighbouring Eritrea. From there, she was sent to Cuba along with more than 200 children by South Sudan's rebel group. John Garang, the leader of the South Sudan People Liberation Army (SPLA), had decided that some of the region's children should be educated far away from the civil war so that they could one day return to help build their country.
"Women suffered most"
In Cuba, Martha learned Spanish and later went to medical school. In early 2000, as the Cuban government could no longer provide for the South Sudanese refugees, Martha, then a certified doctor, immigrated to Canada with many others. When Sudan's peace agreement was signed in early 2005, Martha was part of a group of Sudanese doctors who requested help from the Canadian Government to return to their homeland to help rehabilitate health facilities. By the beginning of 2006, she was practicing medicine at the Juba Teaching Hospital.
"Women suffered the most during this war," Martha said. "While their husbands were fighting or killed, they had to flee with their children on their backs and provide for them no matter what – often having to survive rape and other violence."
As a woman who had the opportunity to receive an education, Martha felt it was important for her to help facilitate change in her country. "I decided to become a Member of Parliament so that I could help improve the situation of women and health in my country," she explained. For this reason, Martha believes that UNFPA's work, which focuses on helping women access life-saving reproductive and maternal health services, is of critical importance in this infant nation.
Challenges ahead
Many challenges lie ahead in South Sudan. One of the poorest countries in the world, its maternal mortality rate is the highest on the planet. UNFPA is helping to train midwives across the country to ensure safe births.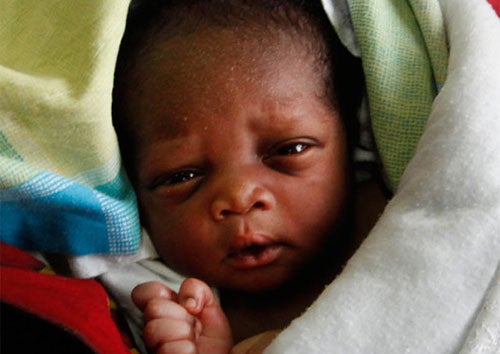 Baby Independence. Photo: Barbabra Davidson/LA Times
Despite the independence celebrations, conflict still rages at the border with North Sudan, where thousands of people have been displaced near the town of Abyei. In these areas, UNFPA has delivered supplies to organizations that are providing services to rape survivors. UNFPA is also employing three mobile staff who are focused on preventing and responding to gender-based violence. Based in Wau, Malakal and Juba, they are working with local authorities to support survivors of violence. This includes building the capacity of health centres to offer appropriate care to rape survivors.
As baby Independence's mother took him home for the first time on Sunday, people gathered in churches of all denominations to pray for those they had lost during the war. For many South Sudanese, Independence Day not only symbolized freedom, but it also gave them the chance to believe that their loved ones had not suffered and died in vain.