UNITED NATIONS, New York - "The AIDS epidemic will eclipse everything else that goes on in Africa," says David Hassell, Africa Regional Manager for the American Refugee Committee (ARC) which has programmes to fight AIDS across the conflict-ridden continent.
"Armed conflicts have the potential to multiply the speed with which HIV spreads," explains Mr. Hassell, who has extensive field experience combating HIV/AIDS as country director for ARC in Uganda and most recently Sudan where a bitter conflict rages in the south between rebels and government forces.
Displacement Promotes Violence
During armed conflict, large populations are often displaced, while health care services are destroyed, closed or become unreachable. Most social services such as schools and health education also shut down, leaving communities bereft of the very institutions that form the core of social cohesion and interaction.
During displacement people from different regions and backgrounds are mixed up, personal security deteriorates while sexual and gender violence becomes more frequent as social norms and patterns are changed, even dissolved by the desperate situation that people face. When the conflict ends or slows, both civilians and combatants return to their home communities, sometimes carrying the virus.
But the worst problem, according to David Hassell, may in fact be that many people do not know of the virus and how to avoid infection. At the same time, many countries are ill equipped or unable to raise awareness.
"HIV/AIDS is so hugely devastating that you get the impression that it is not well-known by many - some populations are totally unaware of this threat," says Mr. Hassell. "Information is key to curb the virus and armed conflict makes it almost impossible to put in place meaningful programmes to fight HIV this way.
David Hassell points out that especially women and girls often find themselves without protection against the virus, at the very time where they are most likely to become infected due to the conditions of upheaval.
"Women in conflict situations are the most vulnerable victims. They may be raped by advancing enemy forces or because they can't protect themselves away from their home community. We've seen that in several conflicts. Some armies indoctrinate child soldiers - shock them into fighting - by forcing them to rape someone, or they are raped by adult soldiers themselves. Obviously these situations are devastating."
Mr. Hassell adds that as women become heads of households in their spouses' absence or death, they and their families are often left with no one to protect them, increasing their risk of being targets of sexual and gender violence and thus their vulnerability to the virus. In addition, when the normal source of household income is interrupted, some women face increased risk by resorting to prostitution in order to help the family survive.
"I sometimes wonder if anything is going to be left in Africa in 20 years. Even if the whole world mobilized this very minute, we would still be a day late and a dollar short. The virus is spreading incredibly fast and humanity is far behind the curve," says Mr. Hassell.
'We're Losing Generations'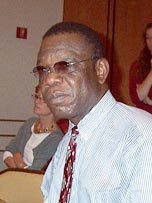 That problem is increasingly evident in conflict-plagued Liberia where the very people who could fight the deadly epidemic in the future are dying now, the young. Generations are being lost to HIV/AIDS, says UNFPA Representative Deji Popoola.
"With them, we lose momentum against HIV, we lose knowledge and we lose development."
Mr. Popoola explains that important social and health care gains, painstakingly built over decades, are being wiped out at an incredible pace by conflict and AIDS.
"We can not restart meaningful development during conflict, it is the primary impediment in the fight against AIDS. Even when peace comes, the scars left by conflict continue to impede progress: When infrastructure, hospitals and clinics are destroyed, communities suffer until they are rebuilt. Tragically, are losing the generations that could rebuild them. The international community must act forcefully to address the deadly interaction between HIV/AIDS and conflict and it must act immediately. It is not possible to overstate the urgency here."
--Jesper Jensen
Contact Information:
William A. Ryan
Tel.: +66 2 288 2446
Email: ryanw@unfpa.org