BUENOS AIRES/TEGUCIGALPA/NEW YORK – Like many teenagers in Argentina's Jujuy Province, Camila used to lack access to comprehensive sexuality education in school. She saw her peers face risks like adolescent pregnancy and sexually transmitted infections, as well as gender-based violence.
But now, she says, they know their rights and will not be pressured into sex unless it's their choice.
"We are learning that we don't have to follow stereotypes as dictated by society. That each of us is free to do whatever we want, whether you're or a man or a woman," Camila said.
Camila is one of almost 300 teenagers who took part in a workshop on comprehensive sexuality education and gender-based violence organized by the Spotlight Initiative, the Ministry of Education and Jujuy Province's Comprehensive Sexuality Education Programme, and implemented by UNFPA. The goal is to deepen young people's understanding of their bodies, health and rights, and to empower them to stand up to violence against women and girls.
The workshops create safe spaces for youth to speak freely. When creativity flows, progress becomes possible, the organizers said.
"We want the boys and girls to think hard about gender and about perspectives on gender, as well to analyze the many [gender] inequalities that occur," explained Claudia Gastiarena, a programme coordinator in Jujuy. "These safe spaces allow them to work together to discuss things that happen to them related to gender-based violence, and can be a catalyst for change."
Students weigh in on tackling violence 
Argentina is one of 25 countries where the Spotlight Initiative, a major global collaboration supported by the European Union and implemented by UN agencies including UNFPA, is pushing to end all forms of violence against women and girls. Launched in 2017, the initiative reviewed its early achievements at a high-level event on the sidelines of the 74th United Nations General Assembly on 26 September. The event also underscored the need for investments to improve the lives of women and girls around the world.
"Let's truly make violence against women, in all its forms, history," said UN Deputy Secretary-General Amina Mohamed.
Neven Mimica, EU Commissioner for International Development and Cooperation, noted that "the only zero that really matters is that of zero tolerance for gender-based violence."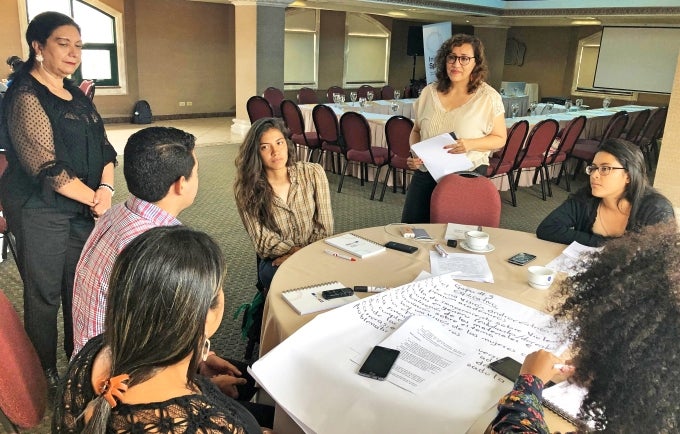 Early results from the initiative show signs of progress, such as successfully lobbying in favor of the first university course on the prevention of violence against women in Honduras. 
The course is being developed with crucial input from students like Cindy Carranza. "For us," she said, "it's very important to be able to share our experiences, what we have lived through, which we normally keep to ourselves."
Once it is officially integrated into the curriculum of the Autonomous University of Honduras, the course will create stronger awareness of gender stereotypes, violence and the need for equality – not only among students but also among professors and administrative staff, according to Xiomara Bu, a Spotlight Initiative consultant.
Liberia gets serious on ending violence against women
Despite the progress made in Argentina and Honduras, it's still early days for the Spotlight Initiative, and many more activities are being launched.
In Liberia, for instance, multiple activities have kicked off. These include creating a nationwide psychosocial manual for survivors of gender-based violence, building a centre for survivors inside a prison complex, refurbishing safe houses, creating family planning booths and setting up shelters for refugees.
But even more significant has been the Spotlight Initiative's encouragement for the country to temporarily suspend traditional bush schools, where women and girls can be subject to harmful practices like female genital mutilation, and pass a landmark law against domestic violence.
Williametta Piso Saydee-Tarr, Liberia's Minister of Gender, Children and Social Protection, explained at the New York event that she hopes the momentum will continue despite recent setbacks due to widespread flooding throughout her country. Access to much of the country has been cut off, but the minister said they'll soon get back on track when the dry season starts.
And that momentum must continue beyond Liberia for the Spotlight Initiative to succeed in the face of political headwinds that are eroding the global movement for gender equality, said UNFPA Executive Director Dr. Natalia Kanem.
"Now, more than ever, it is important to galvanize the peoples of the world, governments and civil society to end the scourge of violence against women."