JOHANNESBURG/NEW YORK – Widespread flooding has affected hundreds of thousands of people across Southern Africa. Torrential rainfall and the overflowing Zambezi River have destroyed crops, infrastructure and thousands of homes in Malawi, Mozambique and Zimbabwe, the worst-hit countries. Hundreds are dead or missing.
Tens of thousands of people are now crowded into displacement camps, and an unknown number of communities has been cut off from critical services. Women and girls face particularly dire circumstances, with many reporting lack of sanitary supplies and heightened threats of gender-based violence.
With its partners, UNFPA is providing urgent humanitarian relief to hundreds of thousands of people in the worst-affected areas. With health and protection authorities, UNFPA is providing medical assistance, addressing sexual and reproductive health concerns, and working to prevent sexual violence.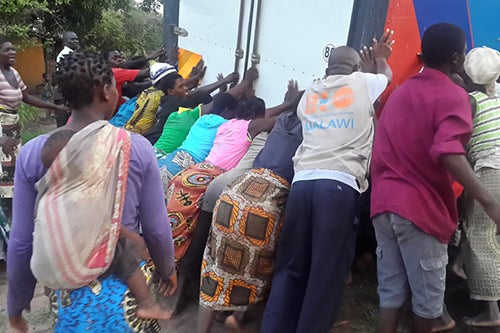 Flood survivors help push a delivery truck out of the mud at Joho Camp in Mangochi, Malawi. The truck is carrying dignity kits for distribution in the camp. © UNFPA Malawi
UNFPA is also providing reproductive health kits and safe delivery kits in areas where people have lost access to health facilities. Reproductive health kits include a range of supplies for health workers that can support childbirth, treatment of sexual violence and family planning.
A state of disaster in Malawi
A state of disaster has been declared in 15 of Malawi's 28 districts. A total of 638,000 people are affected, and in the three most-affected districts, an estimated 174,000 people have been displaced from their homes. Harsh weather has hampered rescue efforts, and further rains and flooding are expected – including in areas not yet affected by the disaster.
Roads and other infrastructure have been washed away, making health facilities and public services inaccessible. Many displaced families are being housed in Government-established camps.
Affected communities say the health and sanitation situation is critical. This is especially true for women and girls of reproductive age, whose hygiene needs are too often overlooked in emergencies. More than half of the displaced are estimated to be women or girls.
"I lost everything during the floods," an adolescent girl told UNFPA at Tchereni Camp. "My biggest challenge is how to manage my monthly period."
UNFPA is distributing dignity kits – which contain soap, sanitary napkins and other hygiene supplies – in the affected areas.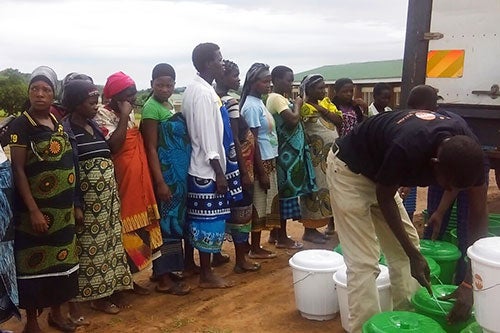 Pregnant women queue for UNFPA-distributed dignity kits at Somba Camp, in Mangochi, Malawi. © UNFPA Malawi
Hundreds of visibly pregnant women were identified in the worst-affected areas of Malawi, and between 10 and 24 January, 88 births were recorded. Medical supplies that had been prepositioned in disaster-prone areas have been provided to health workers and hospitals in six of the flood-affect districts, helping to support safe childbirth, including Caesarean section deliveries and treatment of labour complications.
Violence has been reported in Malawi's displacement camps, and women say the risk of sexual assault is high.
"The toilets are far away from where we are sleeping," a woman from Bangula Camp said. "We are afraid to walk to the toilets at night for fear of being raped. If the toilets could be located close by, this could assist us."
UNFPA is set to provide tents and safe spaces for women, including for survivors of gender-based violence. Specialists in reproductive health and gender-based violence have been deployed in the worst-affected areas. 
UNFPA is also supporting the Malawi Government in collecting age- and sex-disaggregated data to support more effective planning and responses.
A red alert in Mozambique
Mozambique has declared a "red alert" in the central and northern regions of the country, where over 157,000 people have been affected by the disaster. Zambézia Province was worst-hit, with up to 70 per cent of areas unreachable by land. Airlift operations for search, rescue and humanitarian assistance are ongoing. Some people reportedly even fled into Malawi, but are now returning home.
More than 50,000 people in the country are being housed in emergency accommodation, among them hundreds of pregnant women and newborns requiring urgent medical services.
UNFPA is working with health authorities and partners in Mocuba, in Zambézia Province, to map the locations of pregnant women, which will help ensure they are able to receive health care and humanitarian assistance. UNFPA is also procuring reproductive health kits and dignity kits to be distributed in the affected areas.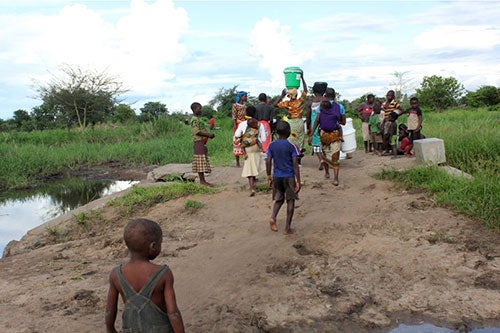 Flood survivors carry home UNFPA-distributed dignity kits Chimwala, Malawi. © UNFPA Malawi
UNFPA is additionally providing family planning counselling in various emergency accommodation camps in Mocuba, and had distributed more than 2,000 condoms. The Fund is also supporting educational sessions on preventing and responding to gender-based violence. 
More violent weather in Zimbabwe
Zimbabwe has experienced continuous heavy rainfall since December. Floods have washed away infrastructure and killed at least 11 people. Some 6,000 people have been affected and 2,500 urgent need assistance. Hundreds of families in low-lying areas are stranded, and rescue operations have been interrupted by violent weather conditions, which are expected to continue.
Relief work has begun in affected areas, but health and hygiene needs remain urgent.
UNFPA assisting the Ministry of Health and Child Care in assessing reproductive health needs in the worst-affected areas. Procurement of hygiene kits and reproductive health kits for affected communities is also underway.