PUNTLAND, Somalia – Sixteen-year-old Sahra* was herding goats in Puntland, Somalia, last September when a man approached her and asked for drinking water. She gave him the water, but then he grabbed her and, at knifepoint, dragged her to an isolated area. He held her captive for two weeks, raping her repeatedly.
Sahra was rescued by local residents, who contacted the community police unit – a joint initiative of UNFPA and the United Nations Development Programme (UNDP) – which facilitated the arrest of the perpetrator. The man, Mohamed Jiite, was convicted and sentenced to 20 years in prison.
Gender-based violence is a major challenge in Somalia. "The UNFPA-supported gender-based violence Information Management System indicates that rape, sexual and physical assault constituted 90 percent of all incidents reported in 2013 and 2014," said Bahsan Said, a UNFPA specialist working to prevent gender-based violence. 
And too often, survivors of sexual assault and other forms of gender-based violence endure stigma, trauma and health consequences. Many have nowhere to turn for support, and abusers frequently escape punishment.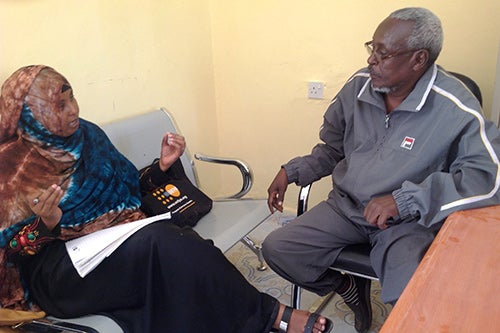 Bahsan Said holds a discussion with a community police volunteer in Garowe, Somalia. © UNFPA/Pilirani Semu-Banda 
"The problem is aggravated by entrenched traditions and customary laws, such as the Xeer system, involving clan-based compensation and marriage arrangements between gender-based violence survivors and perpetrators," said Ms. Said.
Bringing justice to survivors of abuse
In March 2013, to address the needs of abuse survivors, UNFPA and UNDP came together to establish the community police initiative.
Through the initiative, the country's Ministry of Security deployed six female community police volunteers to handle cases of gender-based violence. These female police are trained to work sensitively with survivors, recording and reporting incidents of violence, providing initial psychological support, and offering referrals for clinical management and legal redress.
The programme is aided by the participation of the attorney general's office, the criminal investigation department, schools, communities, and local non-governmental and faith based organizations.
It is apparent that no one sector alone can prevent and address gender-based violence, said Andrey Mamatov, a project manager with UNDP. This is why the joint programme integrates health, psychosocial, legal, justice and community responses. For example, it enables health systems to refer abuse to law enforcement agencies and vice versa. "Strengthening prevention and protection against gender-based violence in Somalia requires a specific mechanism, involving police, health entities and communities," Mr. Mamatov said.
Building community support
The programme also works closely with communities, helping to change attitudes about sexual violence and other abuse, and encouraging people to refer these crimes to the health and justice systems.
"This is to encourage civic responsibility by giving more ownership to communities," said Bakhtior Kadirov, the head UNFPA at the Puntland sub-office. "Twenty gender-based violence cases have been brought to the court over the past three months. This is attributed to the visible presence of police at the community level, deployment of female gender-based violence volunteers, increased community involvement and growing public confidence in the system." 
Mr. Kadirov added that these perpetrators were convicted, helping to change community member's attitudes about seeking justice for these crimes.
"For instance, the case where Jiite was sentenced to 20 years in prison received wide coverage and community support," he noted.
– Pilirani Semu-Banda
* Name changed to protect privacy