UNITED NATIONS, New York – On 12 June, UNFPA celebrated the winners of the 2014 United Nations Population Award: Father Aldo Marchesini, a doctor and Catholic priest who treats obstetric fistula sufferers in Mozambique, and the maternal and child health organization Jhpiego.
Both award winners have dedicated more than four decades to saving the lives and preserving the health of women around the world.
Together, their efforts have improved and expanded reproductive and maternal health care, benefiting countless women and their families.
The cause of a lifetime
Dr. Marchesini, originally from Italy, learned to treat obstetric fistula in 1973, while training at a hospital in Uganda. He knew immediately that he would devote his life to the cause.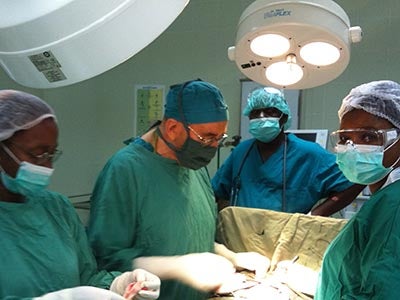 Father Aldo Marchesini operates on a fistula patient in Mozambique. Photo credit: UNFPA Mozambique
Obstetric fistula is a complication of childbirth occurring almost exclusively in places where basic maternal health care is unavailable. Prolonged or obstructed labour tears a hole in the birth canal, leading to chronic incontinence and, often, social isolation and marginalization.
"The following year, 1974, I went to Mozambique and I began to operate on every woman appearing in my hospital," Dr. Marchesini said. Those who arrived for treatment were "suffering and rejected women," he explained.
His work took him all over the country, to hospitals in Quelimane, Mocuba, Tete and Songo. For years he was the only doctor in Mozambique treating the condition.
He stayed through the country's long post-independence civil war, during which he was kidnapped and imprisoned a number of times. But his chief complaint was that women – who had already faced enormous challenges accessing health care – had an even harder time seeking treatment.
"During the civil war, it was very difficult to travel by car or bus. The number of [fistula patients] in our hospital diminished because only patients near Quelimane were able to come to the hospital," he said. Instead, he went to them. "I was able to go to some provinces for campaigns of two to three weeks by flights with small aircrafts," he said.
Father Aldo Marchesini, on adapting to unexpected complications:
"I remember one young girl who came from very far [away], a district near Pemba... She had a rectovaginal and a vesicovaginal fistula… Both fistulas were repaired [and yet, her] general condition deteriorated, with high fever and weight loss. "I suspected she might have an HIV infection, so I did the test, and it was positive. Her CD4 count [a measure of immune health] was less than 100. That year, antiretroviral treatment was in use in Mozambique, so she started to be treated and slowly to improve. [After she recovered, we arranged for her] antiretroviral treatment to be continued in the health centre near her home. From this case, we learned the necessity to [perform] an HIV test on every patient before surgery."
UNFPA supports obstetric fistula campaigns in Mozambique, including providing funds and surgical kits to Dr. Marchesini's programme.
Bringing breakthroughs to the field
Jhpiego, originally known as the John Hopkins Program for International Education in Gynecology and Obstetrics, was founded in 1973 by Theodore M. King. Dr. King sought to reduce high rates of maternal death in low-income countries, and family planning was a key tool for pursuing this goal.
"The global community and, in particular, governments in developing countries, had just begun to recognize family planning as a critical element of reproductive health," said Leslie Mancuso, the organization's president and chief executive officer. "Most women were not using any form of contraception, even though many did not want to become pregnant. This was due to a combination of lack of information, social stigma and, most important, a limited number of providers able to deliver needed services."
The American organization began raising awareness of reproductive health breakthroughs – including those related to family planning – among doctors, nurses and other health workers around the world.
"In 1973, we opened our first overseas office in Nairobi, Kenya… While our expertise and scope of work have expanded over the past four decades to reflect the complexity of women's health, our mission has remained the same – to prevent the needless deaths of women and their families," said Dr. Mancuso.
Dr. Mancuso, on the importance of well-trained healthcare providers:
"Rati Rani is a nurse trained by Jhpiego in Begusarai, a small community in northeastern India. One day, a very pregnant Anita Devi, the mother of four young children, came for one of her antenatal visits... As part of the visit, Rati talked with Anita about the risks of having children too close together and about her family planning options. Anita hesitantly explained that, although she was tired and felt she had nothing left in her body, her mother-in-law was against any form of contraception because she thought Anita should try to have more sons... To address this issue and get Anita the services she desperately wanted, Rati held counselling sessions with Anita, her husband and mother-in-law. She explained the benefits of family planning and healthy birth spacing, assuring them that there were safe and reversible options available. Finally, Rati was able to get them all to agree that [an intrauterine contraceptive device] would be best, and they chose to have it inserted by Rati after Anita gave birth to her fifth child, a girl.
"This story is memorable for me because it reflects the difficulty many women face in accessing family planning in the developing world, as well as how properly trained, well-supported and empowered healthcare providers, and in particular nurses and midwives, can safely deliver integrated services to women where they live and save lives."
In addition to increasing the availability of modern contraceptives, Jhpiego works to improve maternal, newborn and child health; HIV prevention, care and treatment; cervical cancer prevention and treatment; and health services in urban areas. Integral to Jhpiego's work is the development of low-cost innovations that can be used in the field, accelerating efforts to save lives.
"Jhpiego has worked in 147 countries, some with the highest burden of maternal and child deaths or where unmet need for family planning is very high, helping millions of women access needed reproductive health and family planning services in places like India, Pakistan, Yemen, Nigeria and South Sudan," Dr. Mancuso added.
A foundation for the future
Both Dr. Marchesini and Jhpiego have been instrumental in training doctors and health workers, helping to ensure the long-term sustainability of maternal and reproductive health services.
Dr. Marchesini has personally operated on more than 1,000 women as a chief surgeon, and as a teacher, he has overseen the treatment of many hundreds of others. But his most lasting contribution will be through the skills he imparts to local healthcare providers. By some estimates, all the physicians in Mozambique now treating obstetric fistula received their training from Dr. Marchesini.
Dr. King, the founder of Jhpiego, also embraced this approach, bringing not only new technologies, but also knowledge and skills, to places with the greatest needs.
"Dr. King believed that one of the rules of educational institutions was to shorten the time span between discovery of a useful medical advance and its introduction in the field, particularly at a grassroots level," Dr. Mancuso explained.
"Over a million healthcare providers – doctors, nurses, midwives, community health workers – have been trained by Jhpiego in family planning and reproductive health. To this day, you will find physicians and nurses in medical schools and ministries of health throughout the developing world who began their careers learning from Jhpiego."
Recognizing outstanding achievements
Established by the General Assembly in 1981, the UN Population Award is presented each year to a laureate or laureates who have made outstanding contributions in the fields of population and health.
The award committee is chaired by the Czech Republic Ambassador to the UN, Edita Hrdá, and consists of representatives of Bangladesh, Côte d'Ivoire, Denmark, Grenada, Jamaica, Qatar, the United Republic of Tanzania, Nigeria and Pakistan. Members of the committee also include UN Secretary-General Ban Ki-moon and UNFPA Executive Director Dr. Babatunde Osotimehin.
The awards were presented by Deputy Secretary-General of the UN Jan Eliasson at a ceremony at UN Headquarters.
"The Population Award is an expression of our joint commitment to ensure a life of dignity for all and to build a world in which every pregnancy is wanted, every childbirth is safe, and every young person's potential is fulfilled," said Mr. Eliasson, adding: "The commitment of Father Marchesini and the work of Jhpiego embody these goals."