The Organization for Service and Life (Organisation pour le Service et la Vie (OSV), a local non-governmental organization (NGO) in the Francophone West African country of Benin, has launched a collection of family planning songs, which it will distribute to various communities in the country.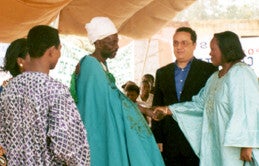 Compiled unto a cassette, entitled, 'The Benefits of Family Planning', the songs were launched at the palace of King Touko Chabi of Kpébié, a town located some 430 kilometres north of the country's capital, Cotonou. King Chabi, a supporter of the NGO, blessed and expressed support for the songs that were launched at a ceremony attended by religious and community leaders as well as the general public. The UNFPA Representative in Benin, Philippe Delanne, and Programme Officers, Espérance Fundira and Edwige Adekambi, were also present at the event.
Recorded in two languages, Bariba and Dendi, the songs were composed by users of reproductive health services after they had undergone training sessions on information, education and communication. They produced the songs to help them remember information they had received on reproductive health and family planning.
The tape contains five segments:
Planning wa sun so ka fa (Family planning is the concern of all of us);
 
Iri a kpé planning (Let us all go to family planning)
 
Bouandobou wa yin ko (Family planning is health);
 
Planning go iri tchè (Family planning is the concern of all of us);
 
Imassa zé yo wo (We are of the present generation).
The songs relay a key message: Family planning and associated services have substantial benefits. According to the songs, these include the prevention of too close or unwanted pregnancies, which help reduce maternal mortality and complications of clandestine abortions. Also listed as benefits are the prevention of sexually transmitted infections (STIs), including HIV/AIDS, and the provision of economic opportunities for women through income-generating activities.
The songs call on women and men to obtain the benefits of reproductive health so as to ensure a happier future for oncoming generations of people.
Parakou, the location of the launching ceremony, is the capital of Benin's Borgou Department. With about 143,000 inhabitants, most of whom are Muslims, the town also has significant numbers of followers of traditional religions.
The local NGO, Organization for Service and Life, promotes reproductive health services in Parakou in close collaboration with communities and their leaders. At the request of the Beninese Government, the UNFPA supports the NGO and others, such as Child and Mother Survival (Survie de la Mère et de l'Enfant (SURVIE). Its support includes the strengthening of clinic services, such as pre- and post-natal consultations, childbirths and the prevention of STIs.
--Abubakar Dungus