No scientist on earth has so far invented a drug that can cure AIDS. However, individuals, governments and groups can fight to prevent it. That is exactly what UNFPA Goodwill Ambassador and Miss Universe 1999, Mpule Kwelagobe, is doing. Late in the year 2000, Ms. Kwelagobe went on a two-week, nationwide awareness campaign in her country, Botswana, one of the African countries most affected by HIV/AIDS. She visited hospitals, youth projects and organizations, where she spoke about the scourge and consoled several AIDS patients. She was accompanied by fellow UNFPA Goodwill Ambassadors, Mikko Kuustonen of Finland and Goedele Liekens of Belgium.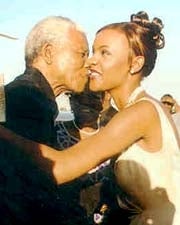 "We ought to tackle this problem [HIV/AIDS] and further improve our behaviour," Ms. Kwelagobe said to the young people who gathered to hear her in the diamond-mining town of Jwaneng. She appealed to her fellow youth to show greater respect for themselves and to their principles of good behaviour.
More than ever before, Ms. Kwelagobe stressed, Botswana's future was in the hands of its young people who could stop the spread of HIV/AIDS by being more careful about their behaviour and by sharing correct information with others. Her campaign, she said, would also try to instil hope among Batswana youth and stress that their positive actions would ensure that the nation would survive HIV/AIDS.
Reactions to her campaigns were swift. They came from the streets and from leaders. Botswana Daily News reported the views of the chief medical officer of a major hospital thus: "Botswana has noted with admiration Miss Universe 1999 Mpule Kwelagobe's commitment to uplift the lives of her fellow Batswana, particularly in the fight against HIV/AIDS."
There were several highlights to the tour. One was a dinner in the capital, Gaborone, to raise funds for the "Keep Hope Alive" AIDS campaign. Among those who attended were Botswana's former President, Sir Quett Masire, as well as former South African President Nelson Mandela and his wife Graca Machel. Proceeds from the dinner went to Mpule Kwelagobe Trust Fund, which sponsors HIV/AIDS projects in Botswana. The Alliance with Youth in Botswana was also launched at the occasion. It is Botswana's segment of a UNFPA-supported anti-HIV/AIDS effort that also works in Ghana, Uganda and the United Republic of Tanzania.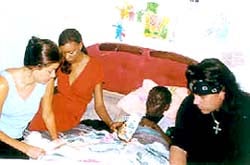 In Jwaneng town, the Goodwill Ambassador visited the Mpule Kwelagobe Children's Centre and the Jwaneng Mine hospital, which she had helped establish. In Nyangabwe Referral Hospital, she greeted and consoled several patients. The three UNFPA Goodwill Ambassadors visited and prayed for an AIDS patient, Elizabeth. Ms. Kwelagobe relayed this from her friend, Elizabeth:
"AIDS is real. We live in an infected country and we are all infected and or affected. Youth have to change their behaviour towards sex and people with HIV. Stop stigmatizing people with AIDS, be caring, compassionate, and support each other."
Elizabeth died shortly afterwards.
--Anora Mahmudova