NORTHERN NIGERIA — In her third trip to Nigeria as Spokesperson for the Campaign to End Fistula, Natalie Imbruglia – singer/actress and face of L'Oreal cosmetics – saw first-hand how funds she raised are making a difference in the lives of women and their communities.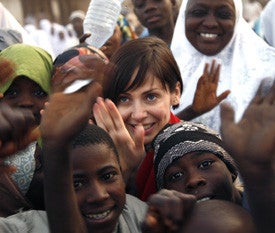 Together with Virgin Unite, the not-for-profit entrepreneurial foundation of the Virgin Group, Ms. Imbruglia has mobilized more than $1 million for a fistula prevention and treatment project in northern Nigeria, led by UNFPA, the United Nations Population Fund. The project, which was launched in August 2007, focuses on two communities in Kano and Katsina States and will expand to additional sites next year.
In just five months, the project has produced tangible results. Newly trained community educators have identified more than 180 fistula patients and connected more than 300 pregnant women with local health centres. Dozens of women have benefited from free fistula surgery and post-operative care. And more than 700 men have been educated about the condition—including 70 religious leaders, whose support is critical to ending fistula.
"As we entered the centre, they broke out into a joyful song about the improvements we've made, such as new mattresses and sheets."
--Natalie Imbruglia
During her three-day visit in early December, Ms. Imbruglia met community and religious leaders, health providers, and high-level government officials, including the Governor of Katsina State, who affirmed his support for efforts to eliminate fistula and improve maternal health. She also heard from patients awaiting surgery and from those who had already received treatment.
"I interviewed the most wonderful woman who had developed fistula during her eleventh pregnancy," said Ms. Imbruglia, following a visit to the Kankara community in Katsina State. "After successful surgery and a stay at the nearby rehabilitation centre, she has been involved in our outreach programme, teaching others that fistula is preventable and treatable."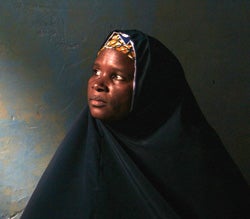 While in Kano, Ms. Imbruglia returned to Kwalli Rehabilitation Centre, where she received a warm welcome from resident patients. "As we entered the centre, they broke out into a joyful song about the improvements we've made, such as new mattresses and sheets," she said. The Kwalli facility provides skills training to recovering fistula patients to help them become economically independent.
Ms. Imbruglia's visit drew local and international media attention, including coverage on Nigerian Television Authority, BBC Africa, Reuters and Sky News. "This issue is finally out in the open, which is definitely the first step in the prevention, cure and, hopefully, final elimination of fistula in Nigeria and the rest of the world," said Belgian TV personality and UNFPA Goodwill Ambassador Goedele Liekens, who also joined the trip.
By all accounts, the project in Nigeria is off to a good start. "The overwhelming feeling for all of us has been the warmth, hope and love we found around these families and their communities," said Ms. Imbruglia, following her visit to the Nassarawa community in Kano State. "They don't have many possessions, but they are rich in ways we could only imagine. It's very inspiring."
The initiative in Nigeria is part of the global Campaign to End Fistula, an international effort to prevent and treat obstetric fistula in more than 40 countries. The goal of the Campaign is make fistula as rare in developing countries as it is in the industrialized world. 
— Saira Stewart