DADAAB, Kenya — "It is distressing to hear the stories of women with small children who had to walk for over 25 days to get to the refugee camp," said UNFPA Regional Director for Africa Bunmi Makinwa, who was assessing conditions in Dadaab refugee camp in Kenya today. Dadaab is the world's largest refugee settlement. Its Somali population has risen to over 470,000 people since famine has been declared in the Horn of Africa. The crisis continues to affect 12.4 million people in Djibouti, Ethiopia, Kenya and Somalia.
"People arrive in the camp with nothing apart from their life and the clothes they are wearing," noted Mr. Makinwa. UNFPA has been distributing dignity kits to women in need, which include hygienic items such as soap and underwear. Reproductive health care supplies are also being distributed to UNFPA partners who are providing emergency care to pregnant women.
Long-time refugees help newcomers
International and local organizations are not the only ones mobilizing resources to assist refugees who have newly arrived in the camp. "It was gratifying to see that Somali brothers and sisters, who have been in the camp for a long time, are sharing their limited supplies with new refugees," noted Makinwa.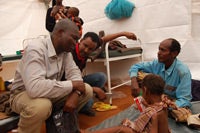 While services to address urgent nutrition needs have being put in place, UNFPA is working with partners to offer lifesaving psychosocial assistance to women who have survived sexual violence. Indeed, UNFPA was informed by partners that many women had been subjected to rape and sexual harassment during their long journey to the camp.
Fragile and fluid conditions complicate the relief effort
All UNFPA country offices in the Horn of Africa are scaling up their efforts to ensure minimum reproductive health care for women. However, because of ongoing conflict in most regions of Somalia, providing urgent aid to affected populations has proved to be a considerable challenge.
"Somalia is one of the worst places on earth for a woman to give birth because of its fragile situation and its failing social services," explains Dr. Rogaia Abdelrahim, Deputy Country Representative for Somalia. Maternal mortality rates were among the highest in the world even before the famine.
In order to access affected populations, UNFPA has been working with local partners in Somalia who are able to distribute medical kits to hospitals and clinics. Clean delivery kits are also being distributed to pregnant women who have been displaced so to ensure safe deliveries. Midwives who have been trained by UNFPA are now receiving medical supplies.
But the escalating crisis can also affect UNFPA's partners who are instrumental in providing lifesaving services. "The situation is so fragile and fluid that a midwife can be working today in a health facility and tomorrow she can become a refuge or an internally displaced person," explained Dr. Abdelrahim.
A long-term intervention will be needed to provide for the needs of all affected communities in the region. "People are really struggling and it will take a lot of efforts to help them," said Mr. Makinwa, "but we know it is possible."