CHANTI HAZRADANGA, Bangladesh – Traditions run deep in the indigenous communities of north-western Bangladesh, where many people are reluctant to seek professional medical care during or after pregnancy. But a clinic in the village of Chanti Hazradanga, in Panchagarh District, is helping to change minds about maternal health – and is saving lives in the process.
"This is a poor area, which makes people less able to travel in search of medical treatment," explained Sabina Yeasmin, a skilled birth attendant at the facility. Before the clinic opened, she said, "the nearest health facility was 4 km away, so people relied on traditional treatments instead."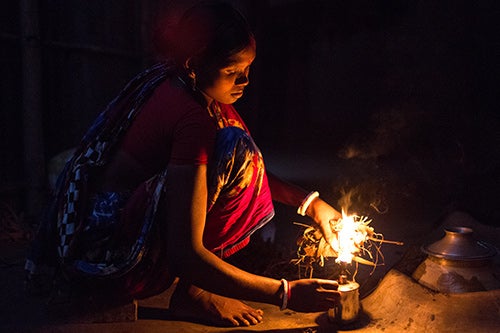 Mina Mormu's first child was born at home during the winter. Tradition called for the baby to be bathed in cold water soon. He died soon afterward. © Nicolas Axelrod/Ruom for UNFPA 
This meant a majority of deliveries took place at home, with only a traditional birth attendant present. Unlike skilled birth attendants – such as doctors, nurses or midwives – traditional attendants have little, if any, training and are unable to handle dangerous pregnancy complications.
But even after clinic arrived, it was not initially embraced by the community.  "When we first started offering modern medical treatment, it was difficult to convince the ethnic minorities to come," Ms. Yeasmin said. "Most of them wanted to stick to their traditional birthing practices."
A deadly practice
Indigenous communities in Bangladesh have found themselves increasingly marginalized and isolated from public sector services, including health care. As a result, indigenous people are one of the most medically at-risk groups in the country.
The Santal community has a population of approximately 225,000 in the districts of Thakurgaon and Panchagarh. Like many of Bangladesh's indigenous groups, the Santal community uses traditional health practices to treat diseases and ailments – and some of these practices carry grave risks.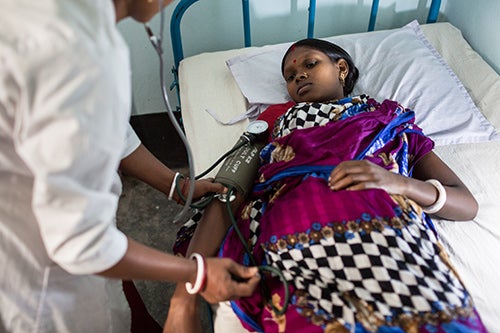 Mina Mormu is now nine months pregnant, and receiving antenatal care at the clinic. She plans to deliver at the clinic as well.  © Nicolas Axelrod/Ruom for UNFPA
One of the most dangerous traditions involves giving newborn babies a cold bath within the first 72 hours after delivery. With winter temperatures in Panchagarh falling to 10°C or lower, these baths put newborns at risk of pneumonia and other deadly conditions. "People think that babies must be clean, but really this can kill the newborn," said Ms. Yeasmin. "Many babies have died because of this in the past."
Mina Mormu, 21, saw the tragic consequences of this practice first-hand. "When I was giving birth to my first baby in 2010, there was no clinic here. I delivered the baby at home, and we gave him a bath," she said.
"But because it was winter, he died from the cold."
Slow but steady progress
The clinic opened in February 2014, with a mission of improving maternal and child health in the area. It is supported by the Government of Bangladesh and UNFPA, which provides the equipment, medicines and staff training.
Ms. Yeasmin, who received training from UNFPA and the Obstetrical and Gynaecological Society of Bangladesh, says one of the biggest challenges is not just providing expert care but convincing the local community to seek care in the first place. A door-to-door awareness campaign has helped, she added, and progress is coming steadily.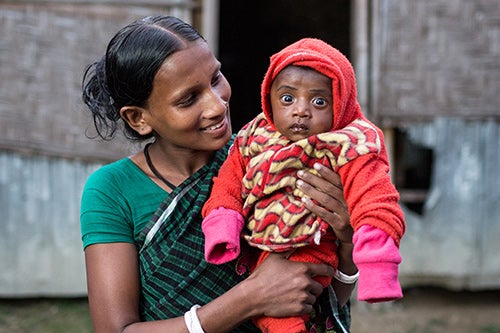 Salina Kisku with her second child, Badhan, now three months old. Badhan was safely delivered at the clinic. © Nicolas Axelrod/Ruom for UNFPA
Ms. Mormu is one of the newly convinced. "I'm now nine months pregnant with my second baby. I don't want to take any more risks, so I will have my baby at the clinic. I've already started receiving antenatal check-ups," she said.
Salina Kisku is one of eight mothers in the village who have given birth in the clinic, and she is now one of its most vocal advocates. "I had my first baby at home, where we had no delivery table, no medicine and no way to get help in case of a complication," she said. "I heard that Sabina was very skilled, so I decided to come to the clinic for my second birth. I was very nervous, but once I arrived I felt safe."
She safely delivered a son, Badhan. Both mother and baby received post-natal check-ups to ensure they remained healthy.
Ms. Kisku has also decided to take advantage of the clinic's voluntary family planning services. "Since I recently learned about family planning, and I don't have enough money to care for another child, I will not have any more babies," she said.
"But if I did," she added. "I would come to the clinic."