ASSIUT, Egypt – In her daily life, Hoda Hamed, is a quiet 37-year-old kindergarten teacher. But when she is off the clock, she is a force of nature. Ms. Hamed is an outspoken advocate for women and girls, working tirelessly to convince her rural Egyptian community to abandon female genital mutilation (FGM).
"We go about our day as if nothing happened, but the amount of suffering we go through as women who had FGM is huge," she said.
Ms. Hamed underwent FGM as a child. The experience was excruciating and traumatic, leaving her with deep scars. But it was only when she attended a UNFPA-supported training session that she learned that FGM was a harmful and unnecessary practice, one with lasting effects on girls' and women's health.
FGM  can cause chronic pain, infections, complications during childbirth, infertility and, in the worst cases, even death. It increases the risk of HIV transmission, is linked to depression, and is internationally recognized as a violation of women's and girls' rights.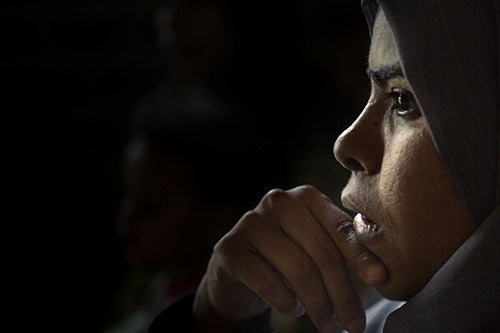 "Married women who underwent FGM suffer a lot," Hoda Hamed said. "FGM really affects negatively the intimate relationship between husbands and wives." © UNFPA Egypt/Sima Diab
"Sitting through one of these awareness sessions transformed me," she said. "I decided that I would not allow my daughters to be cut."
She soon began to advocate for the abandonment of FGM in her village. 
A revolutionary stance
In many ways, Ms. Hamed's stance is revolutionary. Despite the fact that FGM is illegal, the overwhelming majority of Egyptian women have been subjected to it. According to a 2014 survey, 92 per cent of adult women have been cut.
"It is difficult to convince people to let go of this tradition," Ms. Hamed said. "Most of them believe it is a religious requirement."
While FGM remains prevalent everywhere in the country, the incidence is even greater in rural and impoverished areas. "Ignorance and illiteracy are the main reasons for the continuation of a horrible practice like FGM," she explained.
Ms. Hamed organizes group sessions, supported by UNFPA, to raise awareness of the harms caused by the practice. She explains that it is not a requirement of any religion, and that it is a violation of girls' rights. She also visits families to speak directly with parents and young adults. In some cases, she evens threaten to report parents to the police.
Many people resist her message. "They continue to endorse it despite having been made aware of the dangers associated with it," she said.
But Ms. Hamed is tireless. She works not only with women and girls, but also with men, gaining as much support as possible. "It's very important for men to know the harmful physical and psychological consequences of FGM," she noted.
Thanks to her efforts, and those of like-minded reformers in her area, her village has collectively declared that has abandoned FGM.
The next hurdle: Medicalization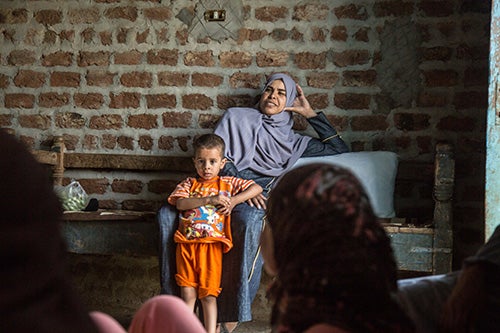 Ms. Hamed now focuses on the next generation of decision-makers. Girls are slightly less likely to undergo the practice, but FGM rates remain high. © UNFPA Egypt/Sima Diab
Ms. Hamed now has her sights set on areas outside her village – and on the next generation of decision makers.
"I have educated my daughters about the harmful effects of FGM, and I encourage them to be active advocates in their communities," she told UNFPA.
FGM is less likely to occur among younger women, but the difference is modest. Ninety-five per cent of women aged 45 to 49 have been subjected to the practice, compared to 87 per cent of those 15 to 19 years old.
"We need to have a real change! There must be a way to raise the awareness of those young girls and boys who soon will become mothers and fathers," Ms. Hamed said. "The hope lies in their future decisions."
Alarmingly, the 2014 survey found that support for FGM remains high. And among today's generation of girls, more than 8 out of 10 FGM cases are performed by trained medical personnel. This phenomenon, known as the medicalization of FGM, threatens to perpetuate the practice by making it seem medically sound while failing to acknowledge it as a human rights violation.
UNFPA and UNICEF jointly operate a programme seeking to eliminate FGM, focusing on policy changes, law enforcement and the role of health professionals. It also supports television campaigns and community theatre programmes, and works with religious leaders and community activists like Ms. Hamed.
"There is always hope!" Ms. Hamed said. "And it is never too late to change one's mind."