The Acquired Immunodeficiency Syndrome (AIDS) and the Human Immunodeficiency Virus (HIV) that causes it have moved beyond being a medical issue and become threats to the survival of societies and to development, a Goodwill Ambassador of the United Nations Population Fund (UNFPA), recently told a major conference on the scourge.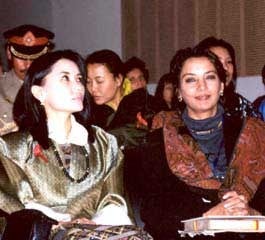 The Goodwill Ambassador, Member of India's Parliament and movie superstar, Shabana Azmi, raised that alarm at the Sixth International Congress on AIDS in Asia and the Pacific, held in Melbourne, Australia, in October 2001. Ms. Azmi spoke at the forum's opening session and a UNFPA-supported symposium on preventing HIV and protecting reproductive health. Held under the theme, "Breaking Down Barriers", the Congress attracted some 4,000 delegates. It was addressed by other UNFPA officials and spokespersons, including Queen Ashi Sangay Choden Wangchuck of Bhutan, who made opening remarks.
"HIV/AIDS is about society being hit at its bones and roots," said Ms. Azmi. "[It] is about families losing their means of livelihood and support. Is about individual women and men whose legitimate dreams are dashed away. … It is ripping-off the very fabric of community and family life."
The Goodwill Ambassador appealed to influential leaders to help prevent the infection by creating awareness of its dreadful consequences. They should also address the stigma facing HIV-infected people and sensitize the general public to eliminate discrimination and the violation of the rights of those living with HIV/AIDS. She stressed the importance of awareness creation because HIV infection is, for instance, spreading from urban to rural areas in India where two thirds of the people have not even heard about it.
"I appeal to all influential leaders in their own capacity and at all levels in all parts of the world to use their intellectual and financial resources in tackling the epidemic," said Ms. Azmi. "I also urge film stars, sportspersons and other celebrities to voluntarily convey HIV/AIDS prevention and control message to the people. This is a service they owe to humanity that has nurtured them so far, and is now under threat."
Further, since 90 per cent of faithful but HIV-positive women were infected through their husbands' high-risk behaviour, the Indian lawmaker said, interventions should inform women about the disease and empower them to negotiate with their sexual partners the use of condoms when engaging in intimacy. Policy and programme efforts, she continued, must also address men and emphasize their responsibility in prevention.
However, Ms. Azmi said, policy makers and programme managers must consider adolescents as a priority group for prevention work. In the absence of appropriate information, she argued, they could indulge in unprotected sex.
"In order to protect them from the clutches of HIV, we must overcome our reservations and reach out to them in culturally appropriate ways and through their respective institutions, groups and environments," said the UNFPA Goodwill Ambassador. "The issues of sexuality and sexual health must be taken out of the closet. We need to realize that adolescents are increasingly involved in sexual activity and that they are not fully informed of the risks of the HIV infection or other sexually transmitted diseases."
"If Government does not ensure adolescents access to unbiased information on HIV/AIDS and the means to avoid infection," Ms. Azmi warned, "there is a real danger that the epidemic could grow out of proportion in the very near future."