Temporary Appointment - Programme Specialist, Mental Health and Psychosocial Support (MHPSS)
Contract Type: Temporary Appointment
Closing date: 28 February 2020 - 5:00pm(New York time)
Duty station: Erbil, Iraq
Job ID: 28869
---
The post of MHPSS Specialist is located in Erbil Sub-Office of Iraq Country Office (CO) and reports to Humanitarian Programme Coordinator GBV.
Job Purpose
Under the overall supervision of UNFPA Resident Representative, this position is responsible for implementing MHPSS activities under the new Iraq Country Programme, in order to reach the defined objectives under the related outputs.
Education: 
Advanced degree in health, mental health, psychology, social sciences, or related field.
Knowledge and Experience:
Minimum 5 years of relevant experience in MHPSS programming;
Experience in developing and facilitating workshops and trainings;
Experience in coaching psychologists, psychiatrists and/or GBV service providers;
Experience in programme implementation from drafting proposals and budgets to monitoring and evaluation;
Demonstrated capacity to work with variety of actors with diverse backgrounds;
Excellent Computer skills: MS Word, Powerpoint, Excel;
Demonstrated organizational skills: the ability to work independently and productively, with multiple stakeholders in a fast-paced environment;
Flexible work attitude: the ability to work productively in a team environment and independently, and to handle requests or issues as they arise;
Demonstrated understanding of issues related to confidentiality, data safety and other ethical concerns related to the sharing on sensitive data between humanitarian agencies;
Excellent interpersonal and communication skills: the ability to successfully and effectively liaise with people in a wide range of functions in a multi-cultural environment
Fluency in English and Arabic strongly preferred
We are no longer accepting applications for this position.
Iraq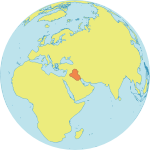 Population : 40.4 mil
Maternal Mortality Ratio
50
Contraceptives prevalence rate
58
Population aged 10-24
31%