Technical Adviser, Gender, Equality and Women's Empowerment, Islamabad, Pakistan, P-5
Contract Type: Fixed Term Appointment
Closing date: 24 October 2019 - 5:00pm(New York time)
Duty station: Islamabad, Pakistan
Job ID: 26362
---
The Position:
The Technical Adviser is responsible for integrated technical and programme advice for gender and gender-based violence (GBV), also focusing on adolescent and youth issues. 
The Technical Adviser works in an integrated manner with the programme and technical staff in UNFPA Pakistan and provides technical leadership and strategic guidance to the United Nations (UN) Joint Programme "Empowering and Protecting Pakistan's Women, Youth, Girls and Boys for a Developed Tomorrow". The UN Joint Programme was launched in May 2018 and the United Kingdom's Department for International Development (DFID) provided £ 17.25 million to UNFPA, UNWOMEN, UNICEF in Pakistan to implement a five-year (2018-22) programme, AAWAZ II.
You will lead the Country Office Gender Unit and ensure the effective management of the DFID funded AAWAZ II Programme. 
You will report directly to UNFPA Representative. 
How you can make a difference:
UNFPA is the lead UN agency for delivering a world where every pregnancy is wanted, every childbirth is safe and every young person's potential is fulfilled.  UNFPA's new strategic plan (2018-2021), focuses on three transformative results: to end preventable maternal deaths; end unmet need for family planning; and end gender-based violence and harmful practices. 
In the face of developmental challenges in Pakistan, including the large spectre of gender inequality encompassing women's empowerment, economic dimensions and gaps in fulfilment of women's reproductive rights, UNFPA is seeking candidates that transform, inspire and deliver high impact and sustained results; we need principled and ethical staff, who embody human rights norms and standards, and who will defend them courageously and with full conviction; we need staff who are transparent, exceptional in how they manage the resources entrusted to them and who commit to deliver excellence in programme results.
Job Purpose:
In a highly complex operating environment, you will play a key role in promoting partnership and strategic alliances with counterparts in government, multi-lateral and bi-lateral agencies and civil society in support of advancing gender equality and addressing GBV. You must effectively influence counterparts from diverse backgrounds to advance the 2030 Agenda for Sustainable Development and the Programme of Action of the International Conference on Population and Development. 
You will provide technical guidance of strategic nature to the DFID funded AAWAZ II Programme and oversee the work of the Country Office Gender Unit, including consultants and experts, and establish and maintain collaborative relationships with counterparts in government, multi-lateral and bilateral donor agencies and civil society to address emerging issues. 
Requirements:
Qualifications and Experience
Education:  
Advanced university degree (preferably Ph. D.) in social anthropology, law and women's rights, sociology, gender, cultural studies, or other field directly related to the substantive area identified in the title of the post. 
Knowledge and Experience: 
• 10 years of relevant increasingly responsible professional experience in the substantive area, of which seven years at the international level;
• Understanding of human rights dimensions of gender, essential; 
• Broad experience in gender-focused programming is essential; 
• Experience in culturally sensitive programming, essential; 
• Experience in advising and supporting initiatives to address GBV, essential;
• Knowledge and experience of working on legal issues and, government and civil society involvement in related security and protection, an asset; 
• Demonstrated expertise in the substantive area of work; and programme experience;
• Strong track record of technical leadership, and proven ability to produce demonstrable results;
• Demonstrated ability to network within the academic and development community;
• Demonstrated expertise in policy dialogue is desirable;
• Familiarity with management and monitoring tools is desirable;
• Field experience is strongly desirable; 
• Knowledge of the UN system would be an advantage.  
Languages: 
Fluency in oral and written English is required; Working knowledge of another UN language an asset. 
We are no longer accepting applications for this position.
Pakistan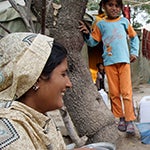 Population : 204.6 mil
Maternal Mortality Ratio
178
Contraceptives prevalence rate
42
Population aged 10-24
29%
Youth secondary school enrollment
Boys 49%
Girls 40%