SERVICE CONTRACT: Monitoring And Evaluation Expert, Maroua, Cameroun, SB4
Contract Type: Service Contract
Closing date: 4 July 2019 - 5:00pm(New York time)
Duty station: Maroua, Cameroon
Job ID: 23999
---
Contexte du poste:
Dans le cadre de l'appui du Fonds des Nations Unies pour la Population (UNFPA) au gouvernement du Cameroun en général et la mise en œuvre du 7e  programme de coopération UNFPA – Gouvernement du CAMEROUN, UNFPA vient de bénéficier d'un financement de l'Union Européenne pour la mise en œuvre du Projet intitulé «Youth and stabilisation for Peace and Security in the Far North of Cameroon». Ce projet conjoint qui sera mené en collaboration avec le PNUD et l'UNICEF vise à contribuer à la stabilisation pour la paix et la sécurité à l'Extrême-Nord à travers des actions de prévention et de lutte contre les violences graves chez les jeunes les plus exposés aux conséquences de la situation socio-économique et de l'insécurité.
A cet effet, UNFPA recrute un Expert en Suivi et Evaluation qui aura pour responsabilité générale de mettre en place un système de suivi, de collecte des données et de reporting du Projet. L'Expert sera basé à Maroua.
Qualifications et expérience
Ce poste est ouvert aux Camerounais et camerounaises ayant le profil ci-après :
L'éducation
Etre titulaire d'au moins un Master (Bacc+5) en management des projets ou dans tout autre domaine similaire.
Connaissances et expérience
Avoir des compétences clés dans le domaine de la gestion axée sur les résultats ;
Avoir une expérience professionnelle d'au moins  3 ans en matière de suivi et évaluation des projets ;
Excellente maîtrise des logiciels de base (Word, Excel, Outlook, Power point etc.) et de logiciel de base d'analyse de données (Sphinx, SPSS, etc.) ;
Avoir une très bonne compétence rédactionnelle et une capacité de synthèse ;
Etre physiquement apte à effectuer des missions régulières sur le terrain.
Langue(s)
Parler couramment le Français et/ou l'Anglais, avec une bonne capacité de travail dans l'autre langue.
We are no longer accepting applications for this position.
Cameroon, Republic of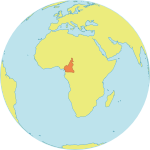 Population : 25.3 mil
Maternal Mortality Ratio
596
Contraceptives prevalence rate
37
Population aged 10-24
32%
Youth secondary school enrollment
Boys 50%
Girls 44%