Service Contract - Assistant(te) National(e) Chargée de la Sécurité , Port au Prince, Haiti, SB4
Contract Type: Service Contract
Closing date: 28 February 2019 - 5:00pm(Port-au-Prince time)
Duty station: Port au Prince, Haiti
Job ID: 20391
---
Summary
L'Assistant (e) National (e) chargé(e) de la sécurité exerce dans les bureaux pays de l'UNFPA et apporte son appui directement au Représentant de l'UNFPA dans l'exercice de ses fonctions pour ce qui concerne la sécurité. 
Il assiste le Représentant dans la mise en œuvre de leur système de sécurité, dirige et conseille le personnel du bureau-pays sur tous les aspects de la planification, la mise en œuvre et le suivi-évaluation des activités de sécurité.  
Il travaillera en étroite collaboration avec l'UNDSS et les autres officiers de sécurité d'agences pour l'application des politiques de sécurité au sein de l'UNFPA conformément aux directives, politiques et procédures des Nations Unies. 
Qualifications and Experience
Etre titulaire d'un diplôme d'études secondaires pertinent (Baccalauréat)   
Avoir suivi une formation militaire ou formation sur la sécurité. 
Avoir un  niveau d'études supérieures dans  le domaine de Science Politique ou
équivalent serait souhaitable.
Justifier d'au moins 6 ans d'expérience dans le domaine de la sécurité de préférence
dans le domaine militaire ou policier ou autre domaine relatif à la sécurité
Une expérience dans les Agences du  système des Nations Unies ou Organisation
Internationale  serait un atout
Avoir de bonnes relations avec les Organisations de la sécurité nationale serait
vivement recommandé
Avoir une parfaite maîtrise du Français (oral et écrit) et bonne connaissance de
l'Anglais (oral et écrit)
Maîtriser l'outil informatique (applications courantes des logiciels de bureau : tableurs,
traitement de texte, présentation, etc.) 
Langues :
Maîtrise du Français et de l'Anglais à l'écrit comme à l'oral ainsi qu'une maîtrise du créole oral.
Connaissances informatiques :
Compétences dans les applications courantes de logiciel de bureau et de support technique (IT)
To view the complete job description and apply to this position, click "Apply Now" below.
Haiti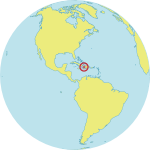 Population : 11.1 mil
Maternal Mortality Ratio
359
Contraceptives prevalence rate
36
Population aged 10-24
30%