Prevention of Sexual Exploitation and Abuse (PSEA) Coordinator, Kinshasa, DRC, P-4
Contract Type: Fixed Term Appointment
Closing date: 11 June 2020 - 5:00pm(New York time)
Duty station: Kinshasa, Democratic Republic of the Congo
Job ID: 30852
---
Job Summary
The PSEA Coordinator will be seconded by UNFPA to the Resident Coordinator Office (RCO) in Kinshasa. S/He will work with all the UN Agencies and liaise with other national stakeholders and partners, including bilateral and multilateral donors.
UNFPA is the Coordinator of the National Sub-Cluster on GBV in the Democratic Republic of Congo (DRC). Taking the advantage of this position, UNFPA has been playing critical role in helping the country implement that PSEA as per the UN guideline, taking into consideration the DRC context. As a result, the UN system has seen UNFPA as a critical partner to help in the effective implementation of the overall policy on PSEA. 
In line with this and flowing the guideline from ERC, instructing the Humanitarian Coordinators to have a PSEA Coordinator, the UN Resident Coordinator in DRC has requested UNFPA to provide support. A technical specialist on PSEA will then be recruited by UNFPA and seconded to the RCO to ensure proper functioning of the PSEA coordination mechanism in the country.
UNFPA will be the host Agency and will play a role in managing the administrative aspect of the work of the Programme specialist. 
How you can make a difference:
UNFPA is the lead UN agency for delivering a world where every pregnancy is wanted, every childbirth is safe and every young person's potential is fulfilled. UNFPA's new strategic plan (2018-2021), focuses on three transformative results: to end preventable maternal deaths; end unmet need for family planning; and end gender-based violence and harmful practices. 
In a world where fundamental human rights are at risk, we need principled and ethical staff, who embody these international norms and standards, and who will defend them courageously and with full conviction.
UNFPA is seeking candidates that transform, inspire and deliver high impact and sustained results; we need staff who are transparent, exceptional in how they manage the resources entrusted to them and who commit to deliver excellence in programme results.
Qualifications and Experience
Education:
Advanced University Degree in relevant areas, or equivalent of minimum of 7 years of work experience.
Experience:
Field experience in humanitarian or development settings 
Understanding of the international development and humanitarian architecture 
Familiarity with the UN system and global coordination structures (e.g. IASC) 
Proven ability to implement an Action Plan 
Experience in developing and facilitating training and capacity-building activities is an advantage 
Familiarity with data protection and confidentiality measures is an advantage 
Skills:
Coordination (experience in an inter-agency coordination role is an advantage) 
Professionalism (proven integrity, objectivity, and professional competence) 
Communication, facilitation, and inter-personal skills 
Ability to work with different stakeholders and build consensus 
Advocacy across a wide variety of actors 
Leadership (ability to lead a technical network)
Leveraging (ability to engage at senior leadership level and secure buy-in)
Problem-solving (ability to know what needs to be done and identify the resources to do it) 
Languages:
Fluency in French and working knowledge of English.
Behavioral requirements:
Sensitivity to cultural diversity, discrimination, and gender issues 
Ability to interact in a sensitive manner with survivors 
Ability to work in a stressful environment 
Ability to delegate
We are no longer accepting applications for this position.
Congo, Democratic Republic of the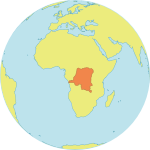 Population : 89.6 mil
Maternal Mortality Ratio
473
Contraceptives prevalence rate
22
Population aged 10-24
32.1%