Consultancy - Web Developer, Baghdad, Iraq
Contract Type: Consultancy
Closing date: 7 April 2020 - 5:00pm(New York time)
Duty station: Baghdad, Iraq
---
Opening for International Consultancy of Web Developer – Front End in Iraq-Baghdad
Duty Station:                 Baghdad
Duration of the contract and timeline:    6 Months
Grade/Level:        Equivalent to P2
Contract type:        International Individual Consultant                   
Deadline for applications:        7 April 2020- 5:00pm (Baghdad time)
Background
Under the overall supervision of the Census National Chief Technical Adviser and under the direct supervision and directions of the National Information Communication Technology Technical Specialist the Mobile Application Developer shall support Central Statistical Organization, Ministry of Planning, Government of Iraq internally develop several mobile applications in native and hybrid code. This will be done by assessing the received requirements from the project team, deciding on the most convenient information system to handle and present the data, and transform the design a functional program along with its related modules (such as backend, etc..). This will entail a close coordination with different units within CSO.
Job Purpose
The Iraqi government plans to conduct the population Census in 2020. UNFPA Iraq CO is geared to provide technical support to the Central Statistical Office (CSO) to conduct the Population Census in 2020. In line with UN/UNFPA policies and guidelines, and internationally established standards and recommendations for census undertaking, the Front-End Web Developer will perform various tasks and provide vital technical inputs to all activities pertaining to census operations at the appropriate stages of the process. In addition, the incumbent will provide support in implementing and documenting activities aimed at increasing stakeholder participations throughout the census process.
Major Activities/Expected Results 
The Frontend Web Developer is an essential part of the project. He oversees the activities of the national frontend web developer teams and works closely with the business's backend developers. The Frontend Web Developer implements the user interface and engineers the experience of every software being put out by the project.
The Frontend Developer also builds out patterns and abstractions that emphasize the efficiency of sites/software. In the execution of his duties, the Frontend Web Developer makes the most of tools such as React and SASS, and makes sure that the business's sites/software are compatible with multiple browsers and multiple devices.
The Frontend Developer constantly evaluates emerging technologies and avails strategic, innovative, and cost-effective solutions that increase the efficiency, reliability, and integration of the business's sites/software, working in a semi-autonomous environment with prototyping technologies in order to resolve emerging site/software issues promptly, reporting directly to the management/consultants
•    Customize or develop front end framework to managed website
•    Integrate JavaScript charts and AJAX to allow dynamic interactive data from cores system 
•    Interacting with developers to produce intuitive system designs and layouts 
•    Create wireframes, storyboards and prototypes to propose options for implementation. 
•    Develop corresponding user interface components (web templates, style sheets, scripts, images, etc,) as needed.
•    Develop guidelines for consistent web design, in collaboration with relevant team members, considering existing guidelines and best practices. 
•    Maintain an inventory of deliverables, and deliver all source elements to allow the CSO to maintain them. 
•    Carry out other relevant web-related tasks as requested
Job Requirements
Qualification:
•    Advanced University Degree in Technology/science/Information Technology/Engineering.
Technical Expertise:
•    Minimum 5-10 years of relevant development life cycle experience in systems and applications development
•    Proven experience in the graphic design and technical implementation of user interfaces in a web-based environment
•    Functional programming experience.
•    JavaScript libraries (React, Angular, Ember, and Backbone)
•    Web interface experience is a must
•    Experience in CSS3, HTML 5.0
•    MS SQL, Oracle is optional experience
•    Experience in Other programming languages like C, C++, Java, Python…etc.
Languages: 
Fluency in English is required.  Knowledge of Arabic is an asset.
How to apply
Kindly forward your completed P11 or CV to the email address vacancy.iraq@unfpa.org indicating the post title in the e-mail's subject before the deadline of 7 April 2020.
We are no longer accepting applications for this position.
Iraq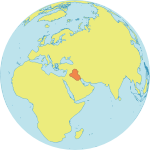 Population : 40.4 mil
Maternal Mortality Ratio
50
Contraceptives prevalence rate
58
Population aged 10-24
31%