Consultancy - GIS Application Developer, Baghdad, Iraq
Contract Type: Consultancy
Closing date: 7 April 2020 - 5:00pm(New York time)
Duty station: Baghdad, Iraq
---
Opening for International Consultancy of GIS Application Developer in Iraq-Baghdad
Duty Station:                                              Baghdad
Duration of the contract and timeline:    6 Months
Grade/Level:                                               Equivalent to P2
Contract type:                                            International Individual Consultant                   
Deadline for applications:                         7 April 2020- 5:00pm (Baghdad time)
Background
 Under the overall supervision of the Census National Chief Technical Adviser and under the direct supervision and directions of the National Information Communication Technology Technical Specialist the GIS Application Developer shall support Central Statistical Organization, Ministry of Planning, Government of Iraq to internally improve the quality of census management, data analysis and presentation through introduction of a geographic information system (GIS).
He/She will contribute to the maintenance and improvement of the existing infrastructure, and will develop new automatic procedures of GIS data harvesting and mapping. This will entail a close coordination with different units within CSO.
Job Purpose
The Iraqi government plans to conduct the population Census in 2020. UNFPA Iraq CO is geared to provide technical support to the Central Statistical Office (CSO) to conduct the Population Census in 2020.
In line with UN/UNFPA policies and guidelines, and internationally established standards and recommendations for census undertaking, the GIS Application Developer will perform various tasks and provide vital technical inputs to all activities pertaining to census operations at the appropriate stages of the process. In addition, the incumbent will provide support in implementing and documenting activities aimed at increasing stakeholder participations throughout the census process.
Major Activities/Expected Results
A GIS applications developer executes the following:
Helping in identifying and enhancing the capabilities of the team associates in order to make sure to achieve target.
Scheming, enhancing and putting GIS applications into effect
Helping in upholding computer programing systems by making use of specialized expertness
Improving the active programming systems in order to maintain effective workflow and execution of projects, so that the operations get a boost
Enhancing the specialized particularities of GIS and writing down the details of the same
Helping other software developers with technical matters as and when required
Researching on specialized matters or disturbances and adopting suitable measures to combat them
Coming up with general system application procedures in order to meet the already designed targets or aims of the company
Recognizing and implementing new specialized plans and programs in order to ensure the application of new and hassle free advanced computer systems
Programing, strategizing and implementing GIS tasks within the given time and budgets.
Coming up with and enhancing examining documents and running unit and group action exams
Backing up the software programing systems of the company and examining their utility towards the company and whether they will be able to achieve the demands of the same
Coming up with written papers for system planning and upholding the procedures and methods of the company
Executing all operations with agreement to rules, regulations and norms.
Participating with the customers to scheme, develop and put geospatial software program packages into effective use
Coming up with advanced internet programs and enhancing the quality of client regularities and schedules, observers and information stations
Working with active place associate unit members and enhancing technical examining documents and putting the same into effect
Developing examination programs and strategies and implementing them for bettering the company's revenue and quality
Studying the application of needs and preparation of GIS application programs and strategies
Implementing fresh growth programs and strategies for the future that help the movement of desktop commodities into internet programs
Attending the stages of scheme growth existence series and assisting the user gathering
Performing the roles and duties of a task leader as and when the situations demand
Executing all other roles, duties, jobs and responsibilities of a GIS applications developer that require supervision and direction.
Job Requirements
Qualification:
Advanced University Degree in Technology/science/Information Technology/Engineering.
Technical Expertise:
Minimum 5-10 years of relevant development life cycle experience in systems and GIS applications development
ArcGIS experience
QGIS experience
Hexagon Geomedia
MapInfo Professional
FME
Global Mapper
GVSIG
GRASS GIS
Microsoft Office and other presentation software, like Adobe software package
Image enhancement tools (Adobe Photoshop, Snapseed, VSCO, …etc.)
Experience in image compression, coding.
Languages:
Fluency in English is required.  Knowledge of Arabic is an asset.
How to apply
Kindly forward your completed P11 or CV to the email address vacancy.iraq@unfpa.org indicating the post title in the e-mail's subject before the deadline of 7 April 2020.
We are no longer accepting applications for this position.
Iraq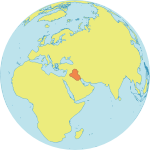 Population : 40.4 mil
Maternal Mortality Ratio
50
Contraceptives prevalence rate
58
Population aged 10-24
31%