Communication Specialist, Behavioral Communication Change and Advocacy, Kinshasa, Democratic Republic of Congo, P-4
Contract Type: Fixed Term Appointment
Closing date: 6 May 2019 - 5:00pm(New York time)
Duty station: Kinshasa, Democratic Republic of the Congo
Job ID: 22788
---
Job Summary
The United Nations Population Fund, UNFPA, is supporting the ongoing reform of the civil registration and vital statistics system in the Democratic Republic of Congo (DRC). This reform is financed by the World Bank and implemented by the CIVIPOL Consortium (UNFPA is a member of the consortium). The implementation of the project will require effective advocacy to ensure support from decision makers at different levels. It will also require appropriate communication with parents and children to ensure proper functioning of the civil registration system. 
How you can make a difference:
UNFPA is the lead UN agency for delivering a world where every pregnancy is wanted, every childbirth is safe and every young person's potential is fulfilled.UNFPA's new strategic plan (2018-2021), focuses on three transformative results: to end preventable maternal deaths; end unmet need for family planning; and end gender-based violence and harmful practices. 
In a world where fundamental human rights are at risk, we need principled and ethical staff, who embody these international norms and standards, and who will defend them courageously and with full conviction.
UNFPA is seeking candidates that transform, inspire and deliver high impact and sustained results; we need staff who are transparent, exceptional in how they manage the resources entrusted to them and who commit to deliver excellence in programme results.
Qualificants and Experience
Education:
Advanced degree (Master) in communication, social sciences, or its equivalent. 
Experience:
Seven (7) years of relevant experience at national and international level; 
Experience in communication strategy development and communication campaign development for social and behavioral change;
Experience in providing technical assistance in the field of communication particularly in Africa and in countries in crisis or post-crisis situations;
Experience in documentation, capitalization and sharing of development program results;
Excellent writing and communications skills; 
Excellent organizational skills; 
Fully conversant with usage of computers (MS Office), email and the Internet; 
Familiarity with UNFPA's policies and procedures and good knowledge/understanding of the UN system coordination process; 
Experience in working in crisis or post-crisis countries would be an asset.
Language:
Full proficiency in spoken and written French, working skills in English.
We are no longer accepting applications for this position.
Congo, Democratic Republic of the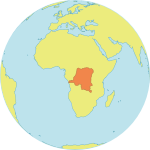 Population : 89.6 mil
Maternal Mortality Ratio
473
Contraceptives prevalence rate
22
Population aged 10-24
32.1%