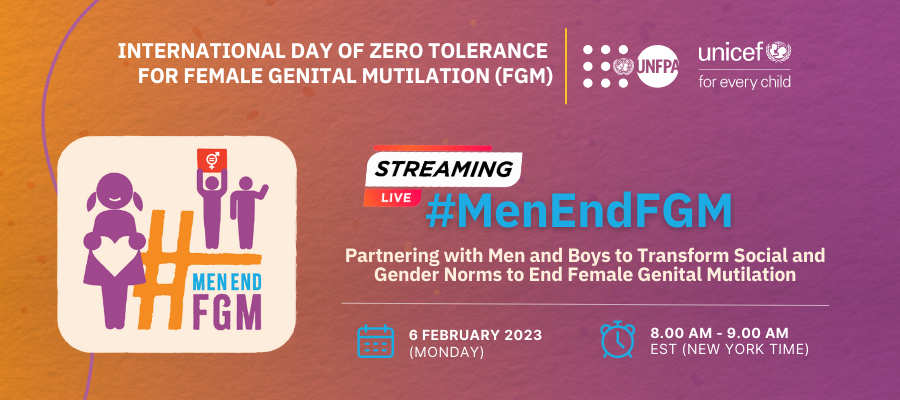 In 2012, the United Nations General Assembly designated 6 February as the "International Day of Zero Tolerance for Female Genital Mutilation" in line with the 2030 Agenda for Sustainable Development. For the UNFPA-UNICEF Joint Programme on the Elimination of Female Genital Mutilation, it serves as a day to galvanize a global movement around the elimination of female genital mutilation, and amplify the voices of girls and women.
UNFPA and UNICEF have led the largest global programme across 17 countries on the elimination of female genital mutilation and has actively engaged stakeholders across the board in mobilizing collective action for its elimination. Opposition to the practice has doubled over the past two decades, presenting an opportunity to foster girls' and women's agency, including decision-making, leadership, and collective action - to influence change.
Partnerships with men and boys can make the largest global impact in eliminating female genital mutilation by 2030. It is with this background and context that the High-level Political Event on the 2023 International Day of Zero Tolerance for FGM is being organized under the theme of "Partnership with Men and Boys to Transform Social and Gender Norms to End FGM". This year, UNFPA and UNICEF call on the global community to partner with men and boys and foster their engagement to accelerate the elimination of this harmful practice and uplift the voices of women and girls.
Commencing on 6 February at 8 AM (EST), the broadcast event will highlight the sustained leadership of Member States, civil society organizations, the private sector and the United Nations system to inspire a global movement to mobilize support for the elimination of female genital mutilation, as well as amplifying the voices of community actors leading the work on engaging and partnering with men and boys on the ground.