What's Next? Women's agency and poverty eradication in Small Island Developing States
What's Next? Women's agency and poverty eradication in Small Island Developing States
Join, UNFPA's Executive Director, Dr. Natalia Kanem and leading figures in sustainable development as they delve into a global conversation on the empowerment of women in Small Island Developing States (SIDS).
During the eighth and final conversation of What's Next? the discussants will focus on advancing women's agency in ending economic inequalities and poverty, towards the achievement of sustainable development, and identifying opportunities for collaboratively addressing challenges.
The event will feature simultaneous interpretation in Spanish and French.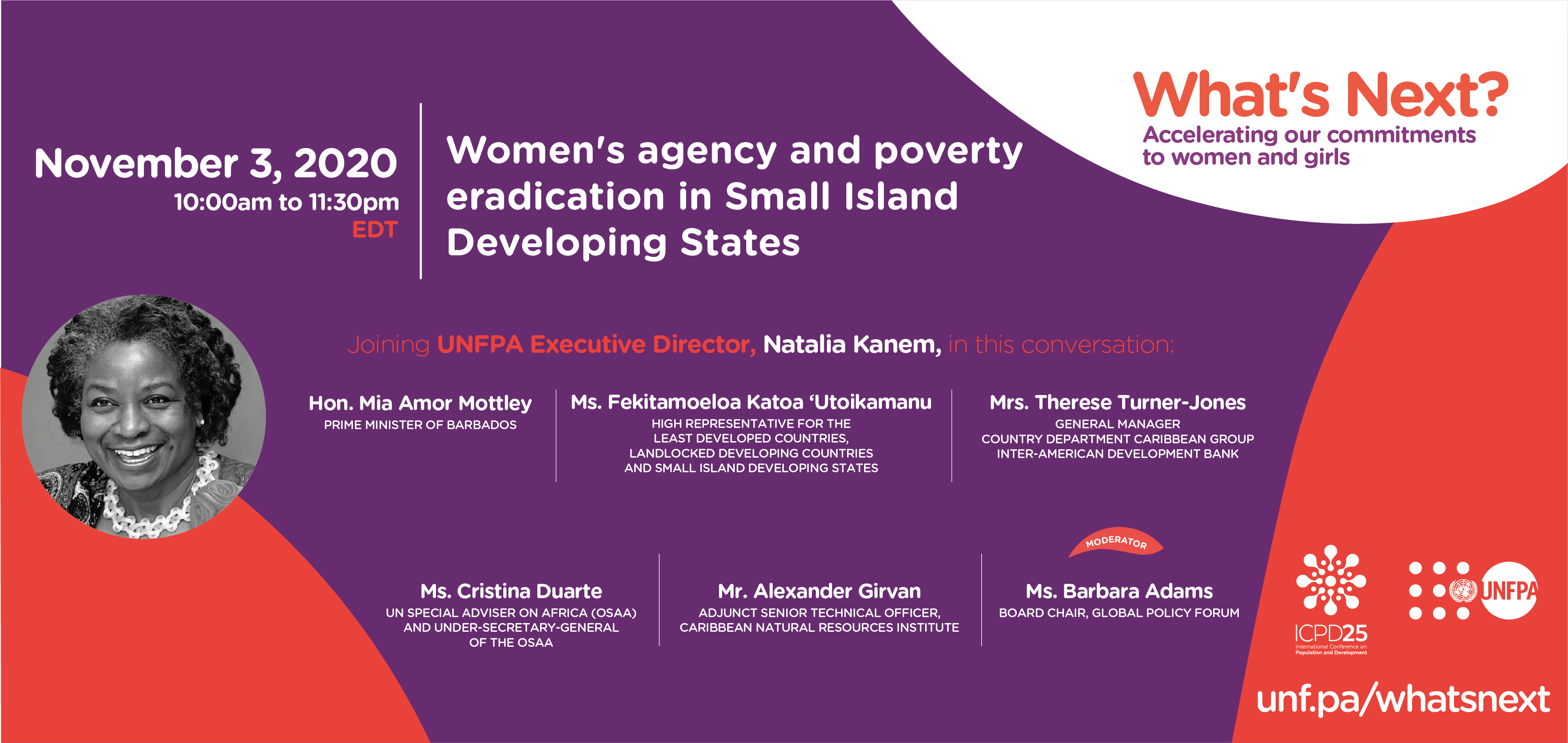 Read more text
More on the "What's Next?" series of global conversations on ICPD25 and the Nairobi Commitments
To map the best, most innovative strategies for sustained progress on the three transformative results amid the pandemic, UNFPA's Executive Director is hosting a series of Global Thought Leadership Conversations on ICPD25 and the Nairobi Commitments: What's Next?  In a spirit of global collaboration and collective action attuned to the demands of the current moment, experts, leaders and activists will together define how to:  
Mobilize global leaders and influencers to catalyse action.
Identify innovative solutions.
Emphasize the urgency of reducing inequality, exclusion, discrimination and vulnerability. 
Highlight underlying gender-based inequalities and discrimination that drive violence against women and girls and harmful practices.
Define a strategy for filling knowledge gaps.
Who and how
The What's Next? conversations engage – and speak to – global leaders and opinion shapers from governments, bilateral and multilateral development organizations, civil society, foundations, the private sector, academia, representatives of indigenous populations and people of African descent, people with disabilities and youth organizations. 
The virtual moderated panel discussions will feature question-and-answer sessions and will take place approximately every two weeks through September 2020. They will be promoted via social media and streamed on YouTube and other interactive platforms. 
Read More
Close