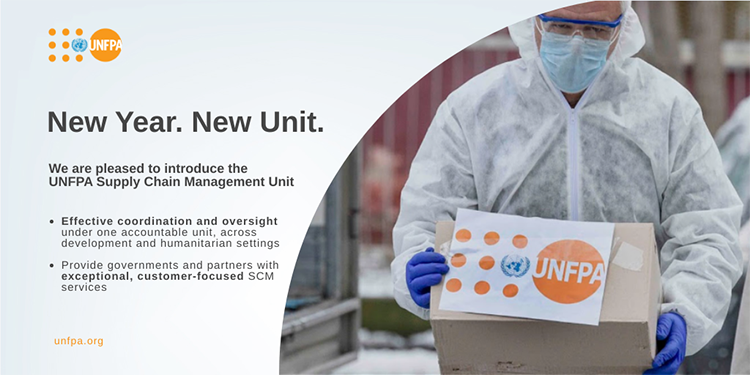 UNFPA is pleased to announce that, effective 1 January 2022, a new Supply Chain Management Unit (SCMU) will be operational, to equip UNFPA to best play its leadership role as the largest multilateral provider of contraceptives in ensuring reproductive health commodity security.
The SCMU will provide oversight and coordination to all Supply Chain Management (SCM)-related functions and processes across country, regional and headquarters levels. It will encompass upstream, midstream and downstream SCM functions, ensuring more effective coordination and oversight under one accountable unit, across development and humanitarian settings.  The current UNFPA Procurement Services Branch will be absorbed into the new Unit without disrupting the usual channels of communication and day-to-day business operations.
It is expected that this new arrangement will result in better preparedness, reduced lead times and greater visibility over the entire supply chain to increase efficiency and reduce wastage and hidden costs.
The new SCMU will be cost-neutral and almost entirely funded through a Supply-Chain-Management fee which will ensure a business-like approach and sustained service quality. 
All necessary organizational arrangements – including the selection of the new leadership for the Unit - are currently being finalized to ensure a smooth transition to the new arrangement. The Chief, Supply Chain Management Unit is expected to be on board by early March. Until then, and prior to his retirement, Mr. Eric Dupont will act as Chief, a.i. Supply Chain Management Unit. For information about the new Unit, please contact him at supplychain@unfpa.org.