This year marks the 25th anniversary of the International Conference on Population and Development, at which 179 governments agreed that human rights – and specifically women's rights, gender equality, voluntary access family planning, and sexual and reproductive health and rights – must be at the centre of population policies.
"ICPD was a genuine revolution," said UNFPA Regional Director Bjorn Andersson at SheDecides Day, held earlier this month in Kathmandu, Nepal. 
"Despite this agreement, millions of women and girls have yet to see these promises fulfilled. We must accelerate efforts to realize the reproductive health and rights of all people, everywhere – and especially women and girls."
To help propel these efforts, 25 young leaders have been selected to call for reinvigorated efforts to achieve the goals of the ICPD. 
The 25 leaders were each born in 1994. Together, they are called the "25x25," and they represent the spirit of change and advocacy that has taken hold over the last two and a half decades. The ambassadors all play active roles promoting sexual and reproductive health and rights in their own countries and communities.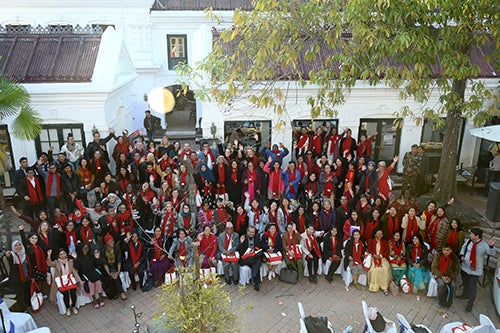 They will spend this year urging governments, civil society and community members to make strong, clear commitments at the Nairobi Summit in November. 
The youth ambassadors met for the first time at SheDecides Day.
"We are all excited and empowered to take this journey of gender equality and get to a world where SheDecides about her sexual life, her reproductive rights in all our countries and throughout the region," said.Sabina Pokharel, from Nepal. 
The event attracted around 200 participants, including high-level representatives of governments, civil society, the development community and youth organizations from the Asia-Pacific region.
Updendra Yadav, Nepal's Deputy Prime Minister and Minister for Health and Population, was among the event's participants. He committed to taking action to advance women's rights. "Nepal has good laws and policies to allow women and girls to exercise their human rights, including their sexual and reproductive health and rights. Now we will focus on more the implementation of these laws and policies," he said.
SheDecides Day was co-hosted by ARROW and the International Planned Parenthood Federation, with support from the Government of Nepal, UNFPA and the Beyond Beijing Committee.