The Rafael M. Salas Memorial Lecture series provides a unique forum for distinguished guest lecturers to discuss important aspects of population and development.
This year's lecture will be delivered by Dr. Ngozi Okonjo-Iweala, the Director-General of the World Trade Organisation (WTO) on the topic "The role of trade in improving the lives of girls and women." 
The lecture will be followed by a high-level interactive panel discussion moderated by Sherwin Bryce-Pease, Bureau Chief & Correspondent of SABC News. In addition to Dr. Ngozi Okonjo-Iweala, other speakers will include Ambassador Carmelita Salas and Dr. Natalia Kanem, the United Nations Under-Secretary-General and UNFPA Executive Director.
The 18th Rafael M. Salas Memorial Lecture will take place on Wednesday, 21 September 2022 at 2:00 p.m. to 3:30 p.m. EST.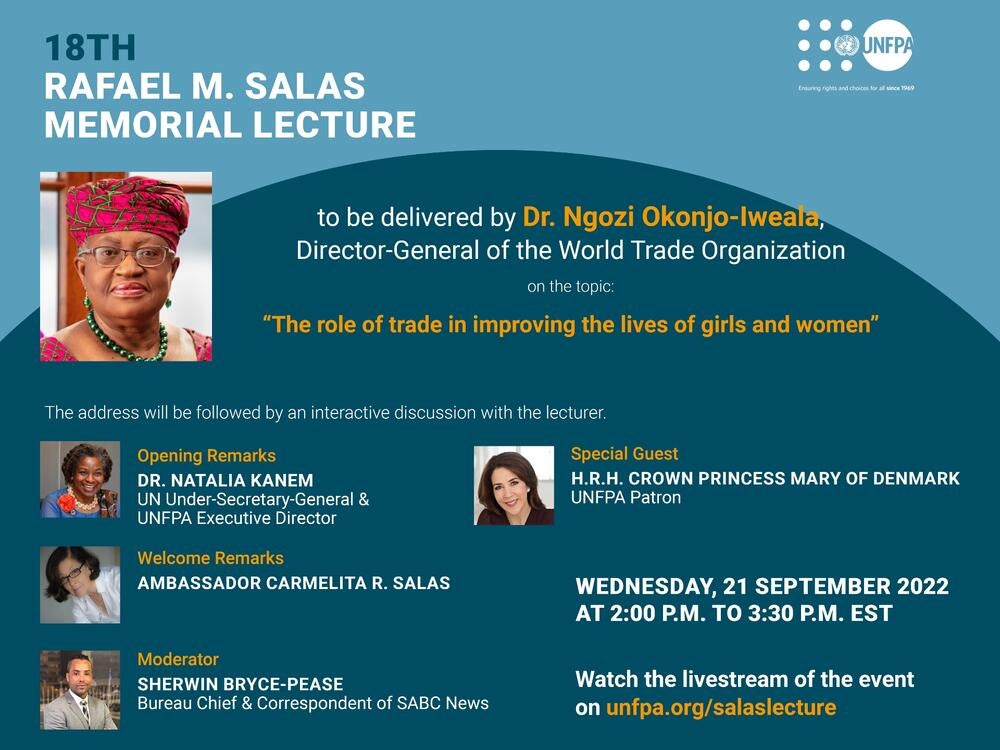 On the lecture series:
The lecture series was initiated in 1989 as a tribute to Mr. Rafael M. Salas, who served as the first Executive Director of UNFPA. Under his leadership, UNFPA grew into the world's largest provider of multilateral population assistance. The first lecture was delivered by The Honorable Dr. Saburo Okita, former Foreign Minister of Japan, on Population and Development, and the most recent speaker, in 2021, was Jeffrey Jordan, CEO and President of Population Reference Bureau who spoke on human rights and development in the disinformation age.