Basic and comprehensive care
Basic emergency obstetric and newborn care is critical to reducing maternal and neonatal death. This care, which can be provided with skilled staff in health centres, large or small, includes the capabilities for:
Administering antibiotics, uterotonic drugs (oxytocin) and anticonvulsants (magnesium sulphate);
Manual removal of the placenta;
Removal of retained products following miscarriage or abortion;
Assisted vaginal delivery, preferably with vacuum extractor;
Basic neonatal resuscitation care.
Comprehensive emergency obstetric and newborn care, typically delivered in hospitals, includes all the basic functions above, plus capabilities for:
Performing Caesarean sections;
Safe blood transfusion;
Provision of care to sick and low-birth weight newborns, including resuscitation.
Coverage
Guidelines jointly issued in 1997 by the World Health Organization, the UN Children's Fund and UNFPA recommended that for every 500,000 people there should be four facilities offering basic care and one facility offering comprehensive essential obstetric care.
These guidelines were revised in 2009, with additional support from the Averting Maternal Death and Disability (AMDD) Programme of Columbia University, and published in Monitoring Emergency Obstetric Care: A Handbook. The handbook details the newly revised indicators for assessing the availability, use and quality of obstetric services.
To manage obstetric complications, facilities must have multiple skilled attendants covering 24 hours a day, seven days a week, assisted by trained support staff. To manage complications requiring surgery, facilities must have a functional operating theatre, more support staff, and must be able to administer safe blood transfusions and anaesthesia.
Reducing life-threatening delays
Timing is critical in preventing maternal death and disability: Although post-partum haemorrhage can kill a woman in less than two hours, for most other complications, a woman has between six and 12 hours or more to get life-saving emergency care. Similarly, most perinatal deaths occur around delivery or in the first 48 hours afterward.
A 'three delays' model (see below) helps identify the points at which delays can occur in the management of obstetric complications. Understanding these delays can help health officials design programmes to address these delays.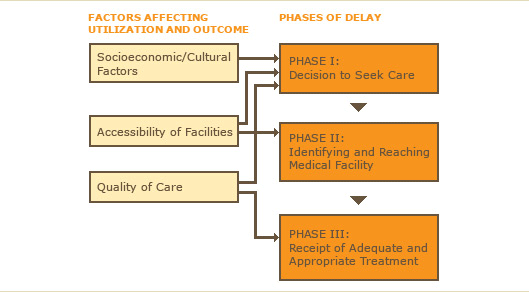 The first delay often happens when a woman, or her family, put off seeking care. The second delay can occur when she tries to reach appropriate care.
Both of these delays relate to the issue of access to care, involving factors such as family and community beliefs, awareness, affordability of care, availability of transport and distance to care. Improved awareness in the community and use of new communications technologies – including mobile phones – can address the first delay. Improved transport services and reduced transport costs can effectively address the second delay.
The third delay is delay in receiving care at health facilities. This involves factors within the health facility, including organization, quality of care, and availability of staff and equipment. Addressing these situations is an essential condition for ensuring that obstetric emergency situations are efficiently managed.
Unless all three delays are addressed, no safe motherhood programme can succeed.