Norway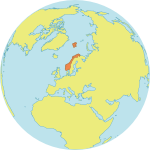 Maternal Mortality Ratio
2
Contraceptives prevalence rate
67
Population aged 10-24
18.3%
Youth secondary school enrollment
Related content
How is menstruation related to human rights? When does menstruation start? What are common myths and taboos about menstruation? What is period poverty?
"We also kept hearing on the television about a new virus called corona that is killing people in many countries," said Aisha Hussain Sibtan. "I was even scared to go to the hospital."
A new report by UNFPA offers, for the first time, a global view of women's decision-making power over their own bodies. The findings are dismaying.
Pages