Iraq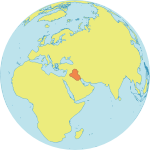 Maternal Mortality Ratio
79
Contraceptives prevalence rate
37
Population aged 10-24
31.1%
Related content
In mid-May, UNFPA was forced to suspend support to lifesaving reproductive health services in 140 health facilities; with UNFPA's appeal for $100.5 million towards its humanitarian response receiving only $41.7 million by May.
In light of the COVID-19 pandemic, UNFPA continues to mobilize its resources to ensure continuity of sexual and reproductive health services and services to prevent and respond to gender-based violence throughout the region.
Funding shortages are making it increasingly difficult for humanitarian actors to meet the staggering needs of the humanitarian crisis, with 31 out of UN's 41 major humanitarian programmes expected to reduce or shut unless funding becomes available within the coming months.
Pages