UNITED NATIONS, Geneva/New York — UNFPA, the United Nations Population Fund, is requesting that international donors contribute $38 million for projects to address the urgent reproductive health needs of refugees, internally displaced persons and others in 24 countries affected by conflict or natural disaster. The aim is to prevent pregnancy-related deaths, HIV infection and the sexual violence that often accompany a crisis.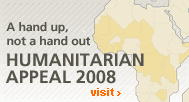 The proposed UNFPA projects are part of the Humanitarian Appeal 2008 launched yesterday in Geneva. The consolidated appeal by United Nations agencies, the International Committee of the Red Cross and more than 100 non-governmental organizations (NGOs) calls on international donors to contribute $3.8 billion to help 25 million crisis-afflicted people in 24 countries in 2008.
"Many humanitarian crises involving conflict continue, in Somalia, Sudan, the occupied Palestinian territory, and the Democratic Republic of the Congo to name just a few," said John Holmes, the Under-Secretary-General for Humanitarian Affairs and Emergency Relief Coordinator, at the launch of the appeal yesterday at United Nations headquarters, Geneva.
"Floods, hurricanes, cyclones and drought also struck more frequently in 2007, and this trend points to a future where aid agencies and the world's vulnerable poor will have to respond ever more frequently to climate-related disasters," he added.
Urgent interventions to promote safe motherhood, HIV prevention, and data collection are among the interventions proposed by UNFPA under its portion of the 2008 Humanitarian Appeal. The Fund has also proposed a wide range of interventions to prevent and respond to cases of sexual violence, and to ensure that the other specific needs and vulnerabilities of crisis-affected women and girls are addressed by all humanitarian partners.
Examples of specific UNFPA activities covered in the 2008 Appeal include:
Strengthening access to maternal health care and other vital reproductive health services in war-torn Somalia;

Preventing and responding to cases of sexual violence among people displaced by conflict in Darfur, Sudan and living in internal displacement camps or as refugees in neighbouring Chad and Central African Republic;

Reducing maternal and infant mortality in the Occupied Palestinian Territory, where strict closures, curfews and checkpoints are severely limiting pregnant women's access to care in the West Bank and Gaza;

Preventing HIV infection among vulnerable women and girls in Zimbabwe, which has one of the highest HIV prevalence rates in the world.
The UNFPA projects would be carried out in close collaboration with national governments, local NGOs and United Nations partner agencies, including Office of the High Commissioner for Refugees, World Food Programme, United Nations Children's Fund and the World Health Organization.
Contact Information:
David del Vecchio
Tel.: +1 (212) 297-4975
Email: delvecchio@unfpa.org