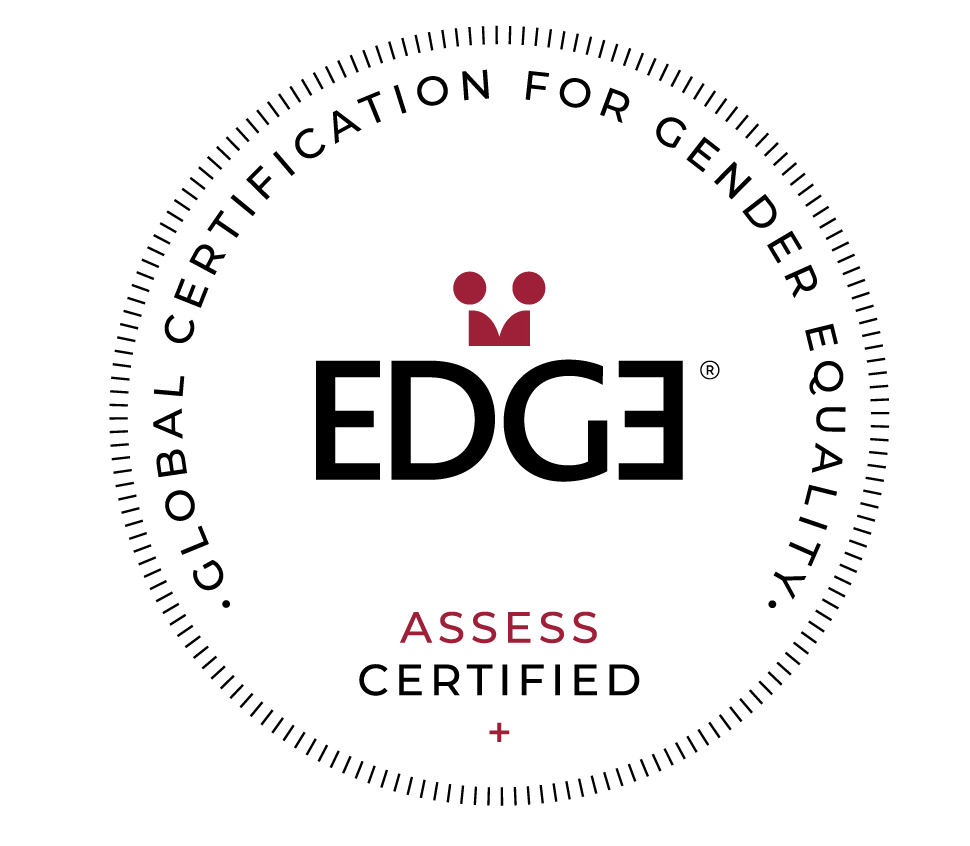 Certifications recognize commitment to gender equality, diversity, equity and inclusion in the workplace
United Nations, New York, 27 April 2022 - UNFPA, the United Nations sexual and reproductive health agency, has earned an EDGE Assess certification, the leading global business certification standard for gender equality. It has also become the first UN agency to obtain the relatively new EDGEplus certification, which measures the intersectionality of gender and race/ethnicity, sexual identity/orientation, age, working with a disability and nationality.
EDGE measures where organizations stand in terms of representation, pay equity, effectiveness of policies and practices to ensure equitable career flows as well as inclusiveness of their culture. The certification recognizes UNFPA's commitment to gender equality and confirms that UNFPA is strongly engaged on its way towards becoming a gender-balanced organization.
"As a champion of gender equality and the rights of women and girls globally, UNFPA is leading by example and backing up our words with deeds," said UNFPA Executive Director Dr. Natalia Kanem. "Our EDGEplus certification – the gold standard for gender equality in the workplace – is a significant milestone that will strengthen our efforts to build a truly diverse, inclusive and gender-balanced organization."
EDGE Assess is the first certification level, where the organization commits to an action plan that lays out how it will accelerate progress in terms of gender balance across the talent pipeline, gender pay equity, effectiveness of policies and practices and fostering an inclusive workplace.
EDGEplus enables organizations to drive real progress towards a more diverse and inclusive workforce and culture, by committing to use a multidimensional approach to Diversity, Equity and Inclusion measurement and strategy. The intersectionality of gender and one or several of the following dimensions, including gender identity, race/ethnicity, LGBTQ+, age, working with a disability and nationality, are measured.
Aniela Unguresan, Founder of EDGE Certified Foundation and an International Gender Champion, welcomes the adoption of the EDGE framework by another UN agency: "Achieving EDGE Assess and EDGEplus certification is a demonstration of hard work and persistence from UNFPA to foster a gender-balanced, diverse and equitable work environment. Gender and intersectional equity in the workplace are at the forefront of both its workforce policies and its overall mission."
UNFPA's EDGE Assess and EDGEplus certification shows that the representation of women and men is above the threshold of substantive representation at all levels, including at the Executive Board level. Current recruitment, promotions and retention trends show potential for the organization to maintain good results when it comes to gender representation. The Fund also has a strong existing framework of policies and practices to ensure equitable career flows in the areas of flexible working and organizational culture.
FOR MORE INFORMATION
Eddie Wright
Media Specialist at UNFPA
ewright@unfpa.org
Veronica Del Motto
Digital Marketing Manager at EDGE Strategy
veronica.delmotto@edge-strategy.com
ABOUT UNFPA
UNFPA is the United Nations sexual and reproductive health agency. UNFPA's mission is to deliver a world where every pregnancy is wanted, every childbirth is safe and every young person's potential is fulfilled. UNFPA calls for the realization of reproductive rights for all and supports access to a wide range of sexual and reproductive health services, including voluntary family planning, quality maternal health care and comprehensive sexuality education.
ABOUT EDGE CERTIFICATION
EDGE is the leading global assessment and business certification for gender and intersectional equity. EDGE Certification involves a rigorous third-party review of representation across the pipeline, pay equity, effectiveness of policies and practices, and inclusiveness of an organization's culture. As an integral part of the assessment, statistical data is analysed, policies and practices are reviewed and employees' experiences of career development opportunities in the current workplace are accounted for. Depending on the specific results of each organization, an action plan is formulated, and firm commitments towards its implementation.
EDGE Certification meets organizations where they are in their gender balance journey (EDGE) and in their intersectional equity journey (EDGEplus) through its three levels of certification: Assess, Move and Lead. A certification at the EDGE Assess level recognizes commitment, one at the EDGE Move level showcases progress and a certification at the EDGE Lead level celebrates success in fostering gender equitable workplaces. An EDGEplus certification further recognizing its commitment to analysing intersectional issues between gender and one or several of the following additional dimensions: gender identity, race/ethnicity, LGBTQI+, working with a disability, nationality and age.
EDGE Certification is built around the independent third-party certification of data and information and is distinguished by its rigour and focus on impact granted by one of the EDGE accredited independent third-party certification bodies – SGS, Intertek or FloCert, it remains valid for a period of two years. EDGE's current customer base consists of over 200 large organizations in 50 countries across five continents, representing 30 different industries.