Morocco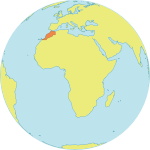 Maternal Mortality Ratio
70
Contraceptives prevalence rate
42
Population aged 10-24
24.3%
Youth secondary school enrollment
Related content
The United Nations Population Fund (UNFPA) and Sudan recently signed an agreement to implement a new, five-year population programme in the African country.
The United Nations Population Fund joins the World Health Organization (WHO) in celebrating World Health Day, which falls on 7 April, and is devoted this year to Mental Health. The Day's slogan, "Stop exclusion, Dare to care", is a call to action to generate long-term...
Thank you for inviting me to present myself as the new Executive Director of UNFPA through the Stopes Memorial Lecture. It is a great opportunity to be among such a distinguished audience and I look forward to a meaningful exchange of views and discussion.
We are...
Pages