Morocco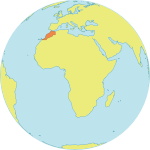 Maternal Mortality Ratio
70
Contraceptives prevalence rate
42
Population aged 10-24
24.3%
Youth secondary school enrollment
Related content
In 1994, the world was transforming. Motherhood would never been quite the same.
International Women's Day, celebrated globally on 8 March, is dedicated to reflecting on the achievements of ordinary women who have made an extraordinary impact in their countries and communities, and to celebrate the contributions of women all around the world.
...

They are real-life superheroes, and their efforts are a clarion call.
Pages