Pakistan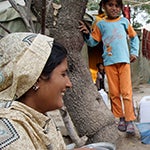 Maternal Mortality Ratio
140
Contraceptives prevalence rate
25
Population aged 10-24
29.7%
Related content
In mid-May, UNFPA was forced to suspend support to lifesaving reproductive health services in 140 health facilities; with UNFPA's appeal for $100.5 million towards its humanitarian response receiving only $41.7 million by May. An additional $24 million is needed for UNFPA's...
In light of the COVID-19 pandemic, UNFPA continues to mobilize its resources to ensure continuity of sexual and reproductive health services and services to prevent and respond to gender-based violence throughout the region.
How is menstruation related to human rights? When does menstruation start? What are common myths and taboos about menstruation? What is period poverty?
Pages