Bangladesh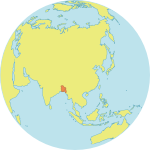 Maternal Mortality Ratio
173
Contraceptives prevalence rate
54
Population aged 10-24
27.9%
Youth secondary school enrollment
Related content
Within the Syria crisis region, which spans the whole of Syria, Turkey, Lebanon, Jordan, Iraq and Egypt, there have been a total of 129,407 confirmed cases of COVID-19 as of April 30, 2020.
UNFPA and its partners are scaling up efforts to empower and improve the lives of Syrian women, youth and impacted communities inside Syria and in host countries, including by advocating for human rights and gender equality to better equip individuals and communities to cope with
Yemen's economy has been badly fractured by half a decade of war. In the first quarter of 2020, economic forecasts indicate that macro-economic conditions are likely to continue deteriorating.
Pages